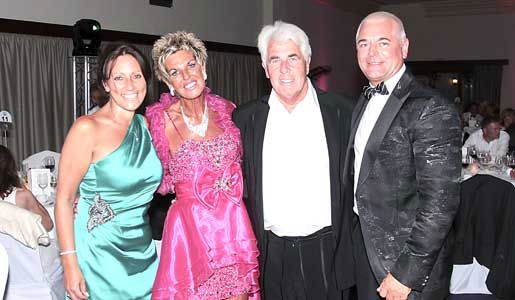 THE Butterfly Ball – one of the biggest fundraising weekends on the Costa del Sol's charity calendar – was a sparkling success. The Butterfly Ball and the associated Max Clifford Celebrity Golf Challenge were held in aid of the Rhys Daniels Trust, which helps desperately-ill children.
The ball promised to be a grand affair of entertainment, fun and laughter, and the night certainly lived up to its expectations. The smart Hotel Puente Romano was the setting for the ball, and the event was ably hosted by Mike Osman.
Gareth Gates soon had everyone on the dance-floor doing their own thing. Gareth was famously runner-up to Will Young in the UK's first Pop Idol. As he watched the guests strutting their stuff, Gareth may have flashed back to 2008 when he donned sequins and lycra and came fourth in ITV's Dancing on Ice.
Comedian Stan Boardman had the audience in stitches with his quick-fire patter and down-to-earth Scouse humour. Masquerade, Tee Green and MotownDru completed the line-up of a night of fantastic and varied entertainment.
Award-winning charity supporter Patti Senker, who tirelessly devotes her time to the Costa del Sol's worthy causes, said the night was 'fantastic'. "It was a real mix of entertainment, laughter and fun. It was a lovely atmosphere, people were so kind, all pulling together for charity to make it a wonderful night."
Patti revealed that almost 200 guests attended the ball. They enjoyed a gala dinner with Champagne, including western king prawn skewer, braised rack of lamb and white chocolate and pistachio brownie with white chocolate ice cream.
But behind the fun and games is the serious side of the event.
The Rhys Daniels Trust provides 'Home from Home' accommodation for families of very sick children who are receiving treatment many miles from their own home. The trust says that the focus is on keeping families together at a very stressful time and providing a sense of normality when life is anything but 'normal'.
Imagine if it was one of your children, born seemingly healthy and vibrant, showing all the signs of developing normally towards an active, independent adult life.
Then, a shocking untimely death sentence is placed on their young innocent heads, a degenerative disease that gradually robs them of life whilst all their parents can do is watch and wait.
Barry and Carmen Daniels, founders of the Rhys Daniels Trust, were two such parents when the thankfully rare Batten's disease struck their daughter Charly and son Rhys.
The couple's lives were taken up with caring for their very sick children, but rather than spiralling into self-pity, Barry and Carmen decided to use their experiences and tragedy to support and help other parents and families who found themselves in a similar position.
Charly and Rhys sadly passed away, but left a lasting legacy in the Rhys Daniels Trust. Guests put their hands in their pockets and gave generously, taking part in raffles and a silent auction.
The final figure raised will be announced as soon as all the information has been collated.