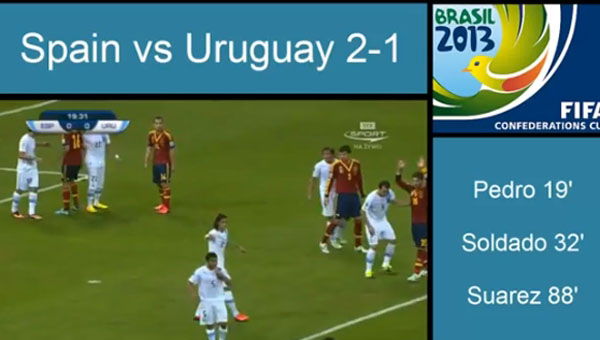 The Spainish team started their Confederations Cup campaign with a mainly dominating performance against Uruguay, earning a 2-1 win at the Arena Pernambuco in Recife.
For the first time in months, Iker Casillas saw action of any kind as Spanish national team head coach Vicente del Bosque slotted the Real Madrid goalkeeper as his number one. Casillas said, "It was a surprise. Five months without playing any official games, and it felt like I was making my debut, which in fact happened 13 years ago."
"I am grateful for the confidence Del Bosque has placed in me, and for my team-mates, with whom I've spent so many years bringing joy to the nation – that's the nicest thing", the Spanish captain added.
Goals from Pedro and Roberto Soldado paved the way to victory while a late Luis Suarez goal for Uruguay caused panic in the final few minutes. The victory puts Spain at the top of Group B with three points. La Roja next take on the islanders on Thursday in Rio.