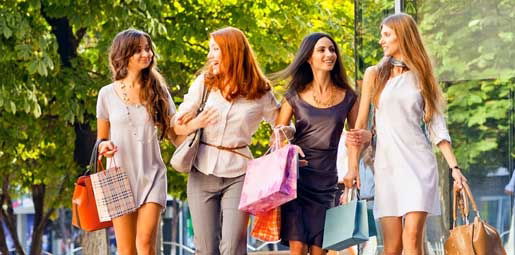 MY name is Nora, and I am a surveyoholic. Yes, I love surveys. Can't get enough of  'em. Two about women turned up just recently. A bit like Government U-turns you could say: wait long enough and two arrive at the same time. Nuff said.
Anyway, both surveys were, as a male teacher acquaintance used to say of a good school report and a lady's skirt, long enough to include the main points, short enough to be interesting. The first survey about shopping revealed that 62 per cent of women spend £37.25 (€43.83) more each time they go shopping with girlfriends (£900 or €1058 more annually) than when they're unaccompanied.
The second survey showed women spend longer getting ready for a night out with their mates than with their partner. Research on 2,000 women by Malibu Rum indicated they spend just 40 minutes getting ready to go out with partners, but an hour and three minutes with their pals.
Prepping themselves for a girls' night out averaged, in fact, eight hours and 19 minutes. That included time for planning what to wear, shopping online, researching venues and e-mailing friends. "For a girl, a night on the town is so much more than going out at 10pm and coming home at 2am. It's all about the lead up, the preparation, the organisation and putting on your glad rags," explained a Malibu spokeswoman. 
Mmm. Thanks for that bit of advice, Ms Malibu, but really! Much as I like and admire my girlfriends, I couldn't possibly envisage spending over eight hours prepping myself for a get together. 
And as for shopping – with or without my pals – I'd better come clean from the start. I hate it. I mean, just look at all the negatives, taking London as an example. Many a time I've left a shop because I couldn't stand the 'music'.
But then, remember that earlier survey (sorry!) that shopping 'music' correlates with increased sales? And don't get me started on parking/congestion charges! Clearly, it can't be my generation that's shopping!  
But then I've never really understood this addiction to shopping (or spending hours getting dolled up for a girls' night out). And probably never will: I'm reminded here of something Louis Armstrong once said, "If you have to ask what jazz is, you'll never know."  
Nora Johnson's thrillers 'Retribution','Soul Stealer', 'The De Clerambault Code' (www.nora-johnson.com) available from Amazon in paperback/eBook (€0.89; £0.77) and iBookstore. Profits to Cudeca