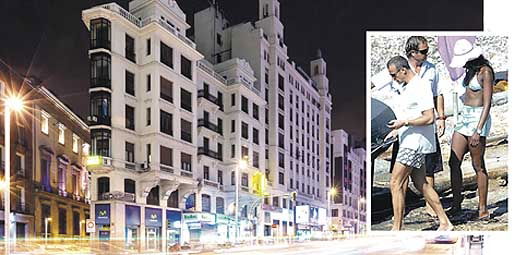 PROPERTY in Spain might be deep in the doldrums but the super-rich still identify with owning homes here. Barcelona and Madrid are now high among 'core European targets' within the elite Ultra High Net Worth (UHNW) ranks when it comes to owning luxury properties in key locations.
The super-rich are increasingly paying top dollar to own properties not only in the global capitals of London, Paris, Hong Kong and Washington, but also increasingly among key international cities, including Barcelona and Madrid, with these until recently merely viewed to be economically distressed.
And America's super-rich are facing stiffer global competition from buyers in China, Hong Kong and South America "as they skip around the world on private jets scouring for trophy properties," reports the New York Times. Russians also seem to be everywhere with Vladislav Doronin, the Moscow-based real estate developer who dates UK model Naomi Campbell and who already has a Spanish base in Ibiza, at present splashing out more than $20 million (€15.3m) to renovate a Miami property. 
The ultra-prime housing markets collectively witnessed more than 300 residential real estate transactions last year where the price was over $15.5 million (€11.83m), according to latest analysis from international real estate advisor Savills.
And these are expected to grow to 400 per year over the next four years. And for the rich, cash is king, with many of the biggest deals brokered without involving banks.