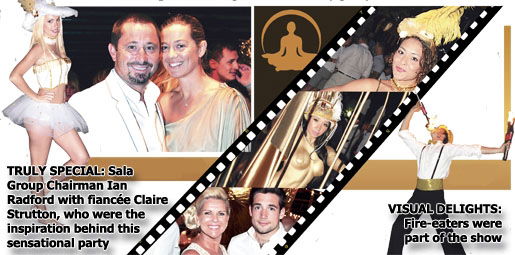 Party-goers gather with nubile dancers, jugglers, and ladies coated in gold make-up at the celebrity party of the summer
IT was truly some-thing special and amazingly magical. The Sala Beach annual White and Gold party firmly put the marker down as this summer's Marbella party of parties.
Under sparkling stars amid midnight blue skies, and to the sound of waves lapping on the shoreline, and the less natural sound of the tip-tap of ladies heels – the highest ever witnessed – the evening revolved around a startling sensual display.
It is unlikely any of the celebrity guests and Marbella society expected to be part of, or to witness, such a visually remarkable evening, even though it was THE party everyone who is anyone wanted to attend.
As local and international media and British Premier League footballers mingled with Marbella society, bedecked in the party's theme of White and Gold, while sipping Champagne and enjoying Thai fusion canapés, the Sala Beach in Nueva Andalucia proved the perfect place to witness the decadent – yet memorable and at all times classy – outfits.
There were feathers and sequins, and extravagance was de rigueur. This truly original party was a hedonistic visual feast, the flickering candles creating ethereal beauty through their crisscrossing shadows on those gathered.
La Sala Beach décor lends itself to good times on a balmy summer's evening, and additionally it is the perfect location to sit, appreciate… and on this special evening to marvel at… yet to perhaps also feel at peace with the world, and to dream of the future.
There were fire-breathers and jugglers, along with stilt-walkers and birds of paradise – nubile women dancing in gilded cages – as well well as acrobatic break-dancing displays. It was a visual array that was truly breathtaking.
And The Lecheritas, a group of nine-year-old singers backed by Sala Group, meanwhile promoted their single Take Me to Marbella, which they hope will put the city resort on the summer pop map.
A spectacular fireworks display set the seal on the night before  revellers – including British Premier League footballers and  managers – headed on to Sala Group's Aqwa Mist nightclub in nearby Puerto Banus. 
It was one of those nights that can never be repeated as the visual excellence could not be bettered. What is certain is that many will try to copy this momentous occasion, but it will never be surpassed.
For those lucky enough to have been there it will leave a hauntingly beautiful memory. Fittingly for a club that attracts the top footballers, La Sala is the Star of Marbella, the Premiership leader in its field. For the people on the Costa del Sol, long may that continue!