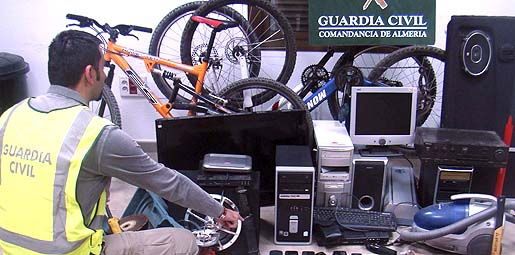 THE number of burglaries in Roquetas del Mar have 'fallen significantly' since five people were arrested. That is the claim of police after the arrests were made as part of Operation Krampon, which started last November.
Worried by a spate of break-ins police started monitoring suspected organised criminal gangs specialising in burglaries. They were allegedly targeting properties which were mainly used as second homes and were left unattended for several months at a time.
Police accuse the five detainees, aged between 18 and 28 of being responsible for 24 burglaries in Roquetas de Mar.
The six-month-long investigation allowed officers to identify two alleged ringleaders of the gang who were, police claim, responsible for the planning and selection of properties. Both have a criminal past. 
Stolen items including electronic goods, jewellery and cash were then stored in a safe house owned by one of those arrested, located in the village of Canjayar, ready for onward sale on the black market, said police sources.