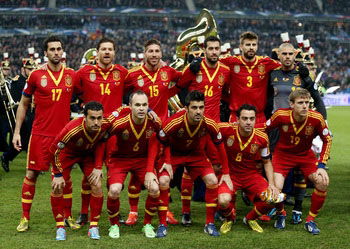 Vicente del Bosque has named his lineup for the prestigious Confederations Cup in Brazil and Spain is now preparing to continue their worldwide dominance. But this competition will be very important for fans of La Roja.
Not only will the squad look a bit different, but there are some notable inclusions and absentees. With Spain looking to solidify their grip on the football world, it is very important that this competition goes well.
There is no surprise regarding Spain's keeper situation. Iker Casillas, Victor Valdes and Pepe Reina will again be in the goal for team. However, it will be very interesting to see if Casillas will be the first-choice keeper after missing so much time this season.
Spain defence is a familiar choice, Alvaro Arbeloa, Gerard Pique, Sergio Ramos and Jordi Alba.
Raul Albiol will be the only substitute centre-back on the bench leaving little room for error or injury between Ramos and Pique. However, midfielders such as Sergio Busquets and Javi Martinez could be used if needed.
There will be no doubts for fullback for the Spanish side as Azpilicueta and Nacho Monreal are included.
The biggest absence in the Spain squad will be that of Xabi Alonso.
Xavi, Andres Iniesta and Cesc Fabregas will all likely play major roles in the midfield.
Santi Cazorla and Juan Mata will both have a great chance to leave their mark on the national team and fans should expect a big showing from the pair currently playing for English teams.
David Villa and Fernando Torres will again be trusted to lead the Spanish attack.
Jesus Navas, Pedro and David Silva will all play on the wings.
Roberto Soldado is the only pure striker in the squad other than Fernando Torres, and arguably David Villa, meaning that Del Bosque is putting his trust on an uncertain bet.