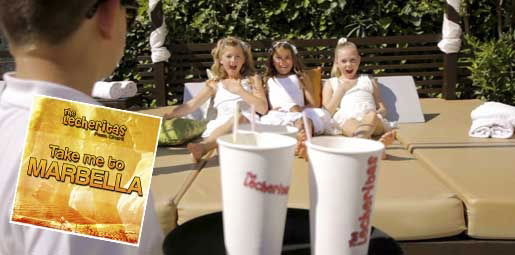 THE LECHERITAS, the Costa del Sol's coolest three nine-year-olds, have launched their single. The official video of Take Me to Marbella by last night (Wednesday) had already been viewed 12,000 times on You Tube, just a day after the catchy song's launch.
And the girls, Franciska, Angelina and Dominique, together with featured singer Charli Floyer, 16, are hoping it will turn into the summer's hot single that will put Marbella on the pop map.
The trio, all best pals from their school in Benalmadena, got together with the La Sala group and Franciska's dad, Jacob Johansen who is in the music industry, to produce the song.
The girls gave a sneak preview of the song at Laude School's Summer Fayre. Next on the agenda is Sala Beach Club's annual White and Gold party on June 7 which will feature The Lecheritas.
Sala Group Chairman, Ian Radford explained why he has thrown his full support behind the girls. He said: "When Jacob discussed the original idea with me I instantly wanted to be involved. The single is an excellent opportunity to put Marbella on the
map in the music world and enrich the Marbella community.
"We are delighted to assist in launching the careers of local talent and by doing so enhancing Marbella's brand and name worldwide."
The song is available from Spanish iTunes: http://smarturl.org/snrll for €1 or €1.29 on Google play: http://smarturl.org/snris.