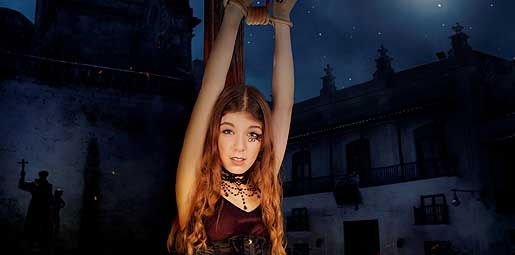 MOST presume football or cricket to be our favourite sports. Not at all, witch-hunts are far more popular and always have been. It is not that long ago that a woman, often a slip of a girl, would be marked as a witch for having a mole on her breast or a fondness for cats. 
Many were banished from their communities. Poor souls pilloried or burnt to death as the mob bayed and gawpers gaped. Witch burning was wiped from the statute books as recently as the genesis of the industrial revolution. 
The term 'hats off' has no chivalrous meaning. This was the call of the mob when the unfortunate on the scaffold was about to drop. Everyone wanted a better view. Lynching was common in the US and Europe before, during and after the war. 
Some people have an aversion to success. Most successful people in sport, industry and the arts are hounded by under achievers. Is it jealousy or perhaps a desire to reduce everyone to their own 'Red Guard' sub-culture? 
The free internet provides a rich hunting ground for self-appointed witch finders. The social networking forum is the modern village green. Many online forums are anarchic places where incivility and abuse is commonplace. The answer is to not use them and few do so. 
Typically, an online forum enjoys the regular input of only 1 per cent of its registered users. As its sole purpose is communication, this is not good. Newspaper online forums are far more successful as readers' comments are monitored by the newspaper's staff. 
Witch-hunts are subject to social trends. There is the current one being waged against aging celebrities. Do you remember the 'free sex' and 'to hell with convention' 1960s?  Ration books and conformity were binned. Some took advantage, especially those in the entertainment industry. 
Although far from being a celebrity my recollections of the free love 1960s is euphoric. As any young blade will tell you, liberated girls queued for attention.
If we ordinary lads were in heaven imagine what it must have been like for those met at stage doors by hordes of screaming teens dressed to look like their mothers. I doubt any carried their birth certificates but they now carry court summons. 
Why mock the Victorians? Welcome to the paradoxical millennium. Kiddies, from the age of five, are taught about sex. The magazine market aimed at pre-pubescent girls is rife with articles giving sexual advice that would embarrass a trooper.
We market movie violence that would thrill an 18th century witch finder general. We then piously condemn children for following example. 
So-called entertainment and literature is abundant with extremes of violence that push every known barrier of sexual taste. Yet men who, 40 years ago, were in their 20s are witch hunted for allegedly bedding the village maid. Perhaps the national sport is also sanctimonious posturing.