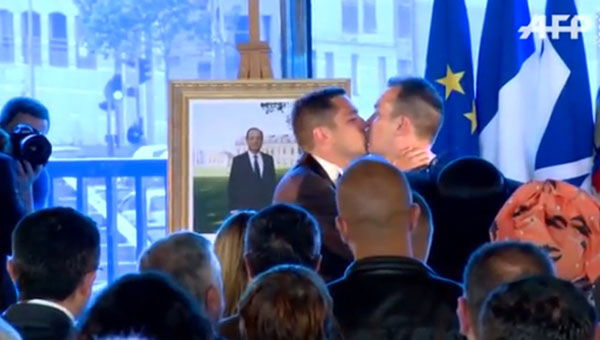 Two homosexual men have married in the south of France, becoming the first same-sex couple to wed in the country since a controversial change in the law just 10 days ago.
Vincent Aubin and Bruno Boileau exchanged vows in the Montpellier city hall before the mayor, relatives, friends and media while police stood guard outside to ensure the ceremony was not disrupted.
"It's a great pleasure for me to declare you married by law," said Montpellier's left-wing Mayor Helene Mandroux, as the couple embraced to a huge cheer from an audience of about 500.
She earlier called the law that legalised same sex marriage as "a stage in the modernisation of our country".
The couple married thanks to a reform that has sparked some of the fiercest French street protests in decades. On Sunday, hundreds of thousands of opponents of gay marriage flooded Paris in a rally that ended in clashes between police and hardliners.
Moments before the men walked in, a smoke bomb was lobbed from outside into the perimeter of the city hall. Security guards rushed to investigate, but the wedding went ahead.
The change in the law to permit same sex marriage came into force this month and made France the 14th country to allow gay weddings.
But in a nation both predominantly Roman Catholic and fiercely attached to the separation of church and state, there has been major opposition.
The move triggered heated street protests by conservatives, Catholics and extreme right-wingers.
Last week, one opponent of gay marriage shot himself dead at the altar of Paris' Notre Dame cathedral in front of horrified tourists.