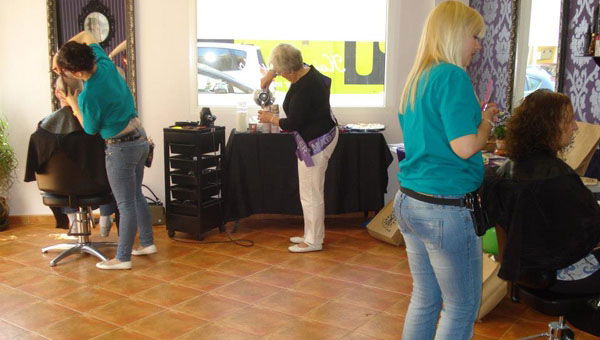 Clayre Burgess opened her salon, Hairy Clayres in Los Belones, just over a year ago and has already established a large, loyal client base. The salon is always busy with both Spanish and English ladies and gentlemen. Clayre has always wanted to do voluntary work, but running a business means that she doesn't have any spare time to devote to it. So, on occasions, she runs an event to raise awareness of a local charity and she decided to run a 'Cut-a-Thon' for MABS Cancer Support Group in Murcia.
Clayre and assistant, Jessica Nelms, opened the salon on 6 May, a day when they are normally closed, and between them completed 25 haircuts, in return for a donation to MABS. The salon was buzzing and many people called in to support the event and have a cup of coffee and a cake.
Local businesses also supported the event: delicious cakes and strawberries dipped in chocolate were made by Antonio, Clayre's boyfriend and Head Chef at La Manga Owners' Club, the refreshments were sponsored by H & H Properties, and local florist, Jerens, supplied beautiful, individual cream roses for each client who donated to MABS.
MABS volunteer, Beverly Taylor, was on hand to help greet clients and offer refreshments. The whole day proved to be great fun and was a huge success, raising 450€ for MABS Murcia. "What a great day" commented Beverly. "Clayre and Jess have worked so hard today and we are so grateful to them and everyone who supported this event. All funds raised for MABS Murcia remain here to help people affected by cancer in the Murcia region." Help and support provided by MABS Murcia includes:
Drivers for hospital appointments
Equipment for nursing in the home – hospital beds, ripple mattresses, etc.
Translators for doctor and hospital appointments
Therapy treatments
Telephone Support
One-to-one, professional counselling
Latest cancer information booklets
Share & Care Support Meetings
 MABS Murcia is a registered charity (No. 7261) offering help and support to local people of all nationalities who have been diagnosed with or are being treated for cancer. If you or someone you know would like some confidential help or support call our HELPLINE693 275 779 or visit their website: www.mabsmurcia.com