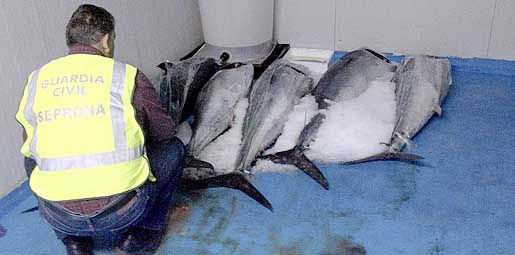 MEMBERS of the Guardia Civil Nature Protection Service, SEPRONA, seized five red tuna fish which had been caught illegally in Almeria. The fish weighed more than 357 kilos.
The investigation began on suspicion that fish was being caught, delivered and sold illegally by crews using yachts which lack the required documents and tracking systems.
Therefore, surveillance was carried out, and a lorry was followed from Almerimar marina to Roquetas de Mar, where a van was waiting to take the load.
Both drivers were identified and the fish was seized. They were given to charity after it was checked by the Veterinary Inspectors of the Territorial Health Department of the Junta de Andalucia in Almeria that they were safe for human consumption.