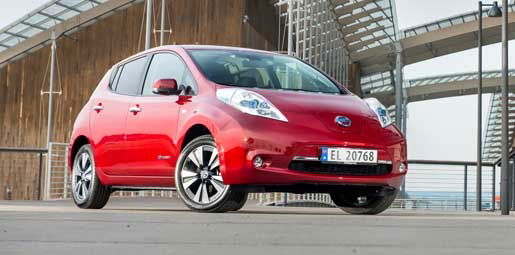 WITH the all electric Nissan Leaf reaching Europe – it is being built at the Japanese giant's Sunderland plant- changes have been made to improve its performance.
The silhouette of the world's most popular pure electric vehicle hasn't changed, but there have been a number of significant engineering enhancements. Car range has increased from 175 kms to 199 kms thanks to a series of engineering improvements.
And a new optionally available on-board fast charger halves the time needed for a complete battery recharge.
There are now more than 54,000 examples driving around the world in near silence and emitting no tailpipe emissions at all. Many can be found in busy city centres – some as taxis – where the lack of emissions is making a genuine and important contribution to air quality, claim Nissan.
More than 100 changes are to be found, some major, some minor. All, however, combine to make the pioneering original an even better car. It has a greater driving range, a larger boot, more comfort, more interior space and more choice, says Nissan. But it is not cheap at €29,900, even if that is €4,000 less than the old model.
"The global success of Nissan Leaf has proven beyond doubt that zero-emission electric vehicles are viable and that far from being a gamble, as some of our rivals suggested, our decision to push ahead with battery-powered vehicles will help secure personal mobility for future generations," said Paul Willcox, senior vice president, Sales and Marketing, Nissan Europe.
As before, the motor is powered by a Nissan-designed 48-module compact lithium-ion battery mounted in a single pack under the cabin area to keep the car's centre of gravity as low as possible. The battery pack is housed in a strong metal case giving extra protection in a side impact and is now assembled alongside Nissan Leaf in a new facility at Nissan's European production base in the UK.
Performance against the clock has changed slightly with a top speed of 144 km/h (down by 1 km/h) and 0-100 km/h taking 11.5 sec (0.4 seconds quicker than before and improvements to the car's aerodynamics, a weight loss programme and other technical changes mean the official NEDC range has risen from 175 km to 199 km.
A quick charger delivers 50 kW of high voltage direct current straight to the battery mean even quicker charging. It takes just 15 minutes to boost a battery from 30 to 80 per cent capacity.