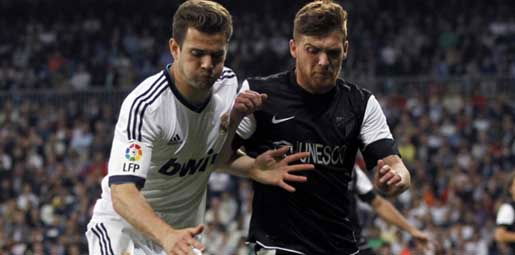 Málaga Club de Fútbol was defeated 6-2 by Real Madrid at the Santiago Bernabéu, in the 36th BBVA League match of the season. The home side was in front by 4-2 after 45 minutes, and increased their lead in the second half. Following Sergio Sánchez and Demichelis being sent off, and the 'Malaguistas' left with just nine men, they played well despite the final result.
Málaga Club de Fútbol was determined to come away from the Santiago Bernabéu with a good result tonight.  However the match was much more difficult than anticipated due to a variety of reasons, plus playing for 70 minutes with a man down.
Real Madrid opened the scoring early on with an Albiol header into goal following a corner two minutes after kick off.  Despite conceding such an early goal, Málaga CF really stepped up their attack which resulted in a goal for Santa Cruz after 15 minutes.  The game soon became a lot tougher for Manuel Pellegrini's men, and a penalty was awarded to Real Madrid following a Sergio Sánchez foul on Cristiano Ronaldo, which also saw the Cátalan-born winger being sent off.  A fantastic save by Willy stopped the Ronaldo penalty, however he paid the price with a foot injury, and was soon substituted by Kameni in goal. 
Manuel Pellegrini's men looked comfortable on the pitch, however the referee awarded a free kick to the local side following a non-existent foul by Camacho.  The Blue and Whites' barrier couldn't stop Ronaldo netting Madrid's second goal of the match from inside the penalty area.  Özil was quick to put the home side 3-1 in front in minute 33.  Two goals down and with just ten men, Málaga Club de Fútbol put on a  brave face and never gave up in their quest for victory.  A spectacular right-footed goal by Antunes in front of the penalty area kept the Blue and Whites' dream alive, however a fourth Madrid goal by Benzema ended the first half with a 4-2 lead for the locals.
Málaga CF came out in the second half more determined than ever, particularly early on.  Another Madrid goal soon put a dampener on Málaga hopes, this time it was Modric who took advantage of an ignored Albiol foul on Santa Cruz, to put them 5-2 in the lead.  The match got even more difficult for the visitors as Demichelis was sent off with a double yellow card, forcing a third substitution for Pellegrini, bringing on Onyewu in place of Eliseu in the restructure of the defence.
 
Özil's injury left Real Madrid with just 10 men in the final few minutes, having made all three substitutions.  This didn't hamper their spirit and in stoppage time Di María scored Madrid's sixth, definitive goal of the game.
REAL MADRID – MÁLAGA CF (36th BBVA League match of the season)
Real Madrid line-up: Diego López; Nacho, Varane, Albiol, Coentrao (Fabinho, 76′); Essien, Xabi Alonso, Modric (Di María, 64′), Ronaldo; Özil and Benzema (Higuaín, 67′).
Málaga CF line-up: Willy (Kameni, 40′); Sergio Sánchez, Lugano, Demichelis, Antunes; Portillo, Camacho, Isco, Eliseu (Onyewu, 75′); Baptista (C) (Iturra, 26′) and Santa Cruz.
Goals
1-0 (2′): Albiol.
1-1 (15′): Santa Cruz.
2-1 (25′): Ronaldo.
3-1 (33′): Özil.
3-2 (36′): Antunes.
4-2 (45′): Benzema.
5-2 (63′): Modric.
6-2 (91′): Di María
Referee
Gil Manzano ('Colegio Extremeño').  Yellow cards were awarded to Real Madrid's Cristiano (79′)' and Málaga's Santa Cruz (25′).  Sergio Sánchez was shown a red card (19′), and Demichelis a double yellow (45′ and 73′).
Information
36th BBVA League match of the season held at the Santiago Bernabéu Stadium.