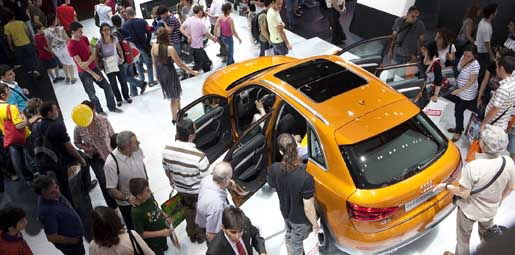 SPAIN will be the focus of the motoring world this weekend. The Barcelona Motor Show will be sharing the limelight with The F1 Grand Prix, meaning it will be a real treat for petrol heads willing to make the trip.
The motor show, open to the public from Saturday, will last until Sunday, May 19. That means, with last weekend's thrilling MotoGP held at the Jerez, Andalucia, circuit, motor racing and car fans from around the world will have had their eyes on Spain for two full weeks. 
The show, held at the Montjuic conference centre, is the automobile event that has the most tradition in Spain and is one of the most important in Europe. Visitors to the show will be able to see the latest from the leading automobile makes and also benefit from special promotions to buy a new vehicle.
For the first time, this year's activities programme will include concerts by some of the best known artists on the Spanish music scene, such as David Bustamante, La Union, Blaumut and DJs from the 40 Principales musical radio network. The concerts will be held on May 15 and 16 and will be open to those with a ticket for the motor show.
The show is again hosting the International Motor Show Awards for the best technological innovations, coordinated jointly with the Sociedad de Tecnicos de Automocion (STA) and the annual meeting of fleet managers.
They will be selecting the best innovations presented at the 2013 trade show, but this year, for the first time, trade professionals can take part in selecting the winners. Of the three categories in the competition (Safety, Energy Consumption, visitors can vote in the category of Best Design Innovation. All the information on the technological innovations entered for the competition can be found at the STA stand.