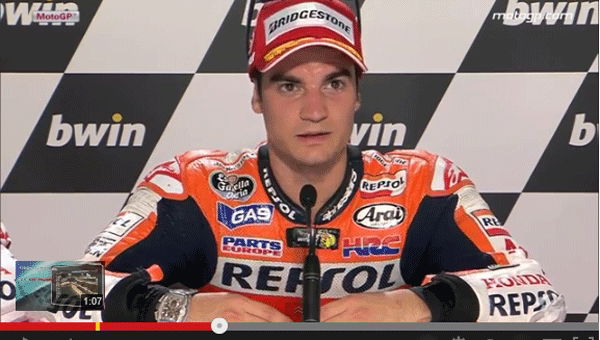 Dani Pedrosa was the winner at Jerez over the weekend in the MotorGP with Marc Marquez passing Jorge Lorenzo on the final lap.
Lorenzo left a gap and Marquez took advantage and went on to finish second, while the Majorcan came third and refused to shake Marquez's hand at the end of the race.
Pedrosa overtook Lorenzo on the first bend, but Lorenzo regained the lead soon after. Valentino Rossi passed Marquez, only to be overtaken by the latter on the following lap.
22 laps from the end, Pedrosa overtook Lorenzo again on the same part of the track and eased away. He then maintained a steady pace and finished comfortably.
However, on the final laps, Marquez did everything to get past Lorenzo without success. Then on the final corner, which had been named after Lorenzo the day before, Marquez slid in on the inside and passed Lorenzo. The incident was similar to one involving Rossi and Sete Gibernau in 2005 with the rider controversially overtaking on the inside and claiming victory.