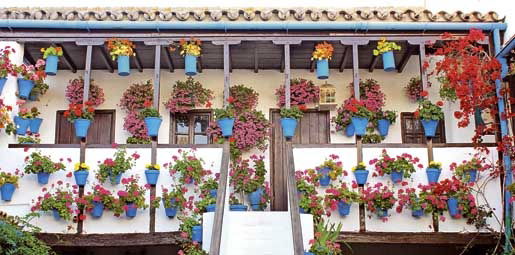 HISTORICALLY-rich Cordoba will raise the curtain on its annual two-week Patio Festival next Wednesday. Attracting more than 112,000 people last year, the Patio Festival first started 94 years ago though it was only officially recognised three years later in 1921.
It initially began as a matter of pride and of hospitality, with residents decorating patios with potted and planted flowers to compete with others while inviting visitors to admire and praise their work.
Running from May 8-19 this year, 52 patios – some overlooked by several homes and containing water features – will be open daily in the mornings and evenings. Some city balconies are also beautifully decorated.
The festival provides an annual fillip to Cordoba hotels, with occupancy levels predicted at around 75 per cent this year.
Entrance to patios is free, with passes booked on www.entradaspatioscordoba.com  
Patio owners do not want Cordoba City Council to charge for entrance unless they receive part of the money towards upkeep of their blooming beauties, which annually attract not only expatriate and international visitors, but also an increasing number of Spaniards.
In December last year, UNESCO declared the festival as one of Intangible Cultural Heritage.