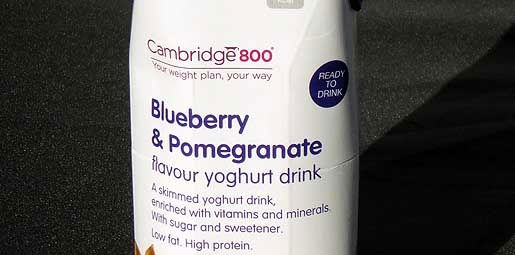 DO you need to lose weight? Why not give Cambridge 800 a try.  With their five steps to success, it is easy to lose weight, and more importantly, keep it off, for good! 
The weight management programmes are easy to fit into your lifestyle, and have been created with good nutrition in mind, to be used as a total diet replacement or in combination with conventional food, according to your individual needs.
 Cambridge 800 products are nutritionally balanced and form the basis of the highly effective Cambridge Weight Plan Programmes, aimed at both men and women. There is a choice of surprisingly tasty meal replacements, such as porridge, soups, shakes, mousse, and delicious bars!
The newest edition to the Cambridge 800 range is the Ready to Drink range. 
There are two flavours, the ever popular Chocolate Flavour Milkshakewhich tastes divine, and the unique and delicious Blueberry and Pomegranate Flavour Yoghurt Drink, so good, can it really be a weight loss product?!
Both are in easy-to-open screw top cartons, which can be resealed.  A wonderfully convenient product when you are on the go, or as a product of choice. 
The sweetener in this new range is Fructose. With a generous 330ml size carton, the Ready To Drink range will leave you satisfied and savouring the flavour long after you have finished your meal. This has been an exciting addition to the popular flavours of Cambridge; eagerly awaited and now one of the most popular products in the Cambridge 800 range.
You don't have to go it alone with Cambridge, because throughout your weight loss journey and beyond, you will have your own personal consultant assigned to you for continued advice, support and motivation. And no extra cost! It's probably the easiest weight loss programme and it is very competitively priced too.
Consultants usually begin their training at the end of their own, often life changing journeys, so they know exactly what you are going through!
So don't put it off any longer.  
There is a consultant near you. To find your local Cambridge 800 consultant who will be able to advise you how to select a Cambridge 800 programme to best suit your lifestyle, call 952 586 324 or 952 475 954, email [email protected] to find the name of your nearest consultant, or visit www.cambridge800.es. 
www.facebook.com/cambridge 800 España-Spain