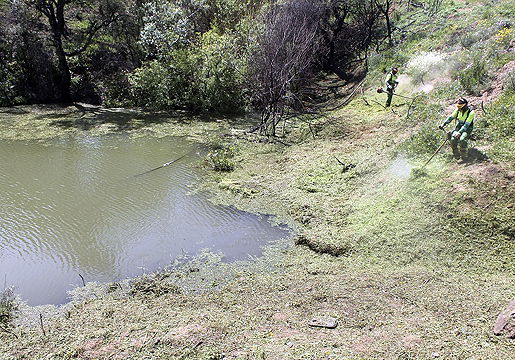 A CROC watch surveillance team will stay in place in Mijas. The town council will keep a look-out at the Majada Vieja area of Mijas where a Nile crocodile was found dead last week.
The mayor, Angel Nozal, says that it is a precautionary measure requested by the Guardia Civil, although members of the force say it is unlikely that there is another crocodile in the area.
Local corporation workers have trimmed weeds from the banks of the two main lagoons so that the presence of any animals is easier to spot. The town hall has said that it does not plan to remove signs warning of the presence of the crocodile yet and that someone will remain in the watch tower.
Mijas Local Police provided the search team with thermal cameras to detect the crocodile, but nothing was found. The search was based on the possibility that the tracks found recently may not correspond with those of the Nile crocodile found dead and were thought to belong to an alligator.
Meanwhile, a post mortem examination will be carried out on the crocodile to determine the cause of its death.
Mijas council will request permits which allow them to stuff and preserve the 2.16 metre crocodile which it hopes will then become a tourist attraction.