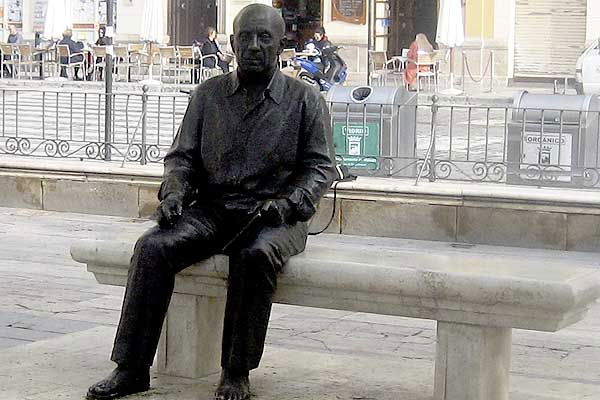 VANDALS removed the bronze sculpture of Pablo Ruiz Picasso from the bench where it was located in Plaza de la Merced, Malaga. It was left just 50 metres away, and has since been replaced by corporation workers.
The sculpture is located on a bench outside the house where Picasso was born in the city centre.
The head of the Casa Natal Pablo Ruiz Picasso said that it had been a "bad joke" and an act of vandalism to throw the sculpture to the floor. It was taken to the Local Police station and checked for damage. Fortunately, this time is sustained none. Back in 2010, the pencil it was holding and part of a finger were removed. 
The city hall is studying measures to protect the sculpture more, such as screwing it down to the bench and floor with longer screws than those currently used. The sculptor will be asked for advice. 
The Local Police are searching for the culprits, but there are no CCTV cameras in Plaza de la Merced.