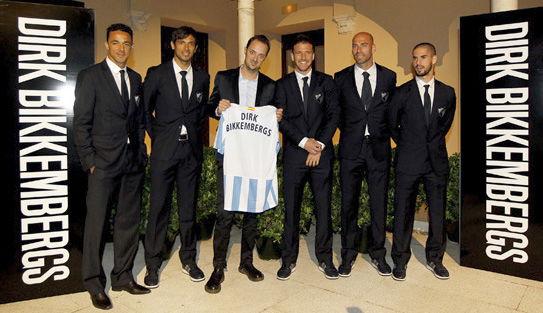 Malaga CF's General Manager, Vicente Casado, and Executive Director of Dirk Bikkembergs España, Luca Pizzuti, signed the sponsorship agreement at the Picasso Museum in Málaga, for the remainder of the current season, and 2013/14. One of the most prestigious Belgian-based fashion design companies, Dirk Bikkembergs, are once again associated with one of this year's hottest football clubs in Europe.
Following the signing of the sponsorship agreement, five 'Malaguistas', – Isco, Santa Cruz, Weligton, Camacho and Willy Caballero – posed for the media in a photo shoot in their official suits.  This event combined fashion and sport at the highest level, taking place within the museum housing the work of one of the greatest painters in history, Málaga born Pablo Picasso.   
Designer, Dirk Bikkembergs, has united the sensuality of fashion with the strength of sport, for more than a decade, with designs mixing glamorous and casual styles.  Following a catwalk show at the San Siro in Milan in 2001, designing the 'Internazionale di Milano' strip and managing their own football club in Italy, FC Bikkembergs Fossombron, the Belgian-based fashion house has designed Málaga CF's suits, casual and foot wear this season, and will continue to do so in 2013/14. 
Málaga Club de Fútbol is one of the biggest clubs in Europe, having made the quarter-finals of the UEFA Champions League alongside the best eight teams on the continent.  Both the Málaga CF and Dirk Bikkembergs brands have travelled across the stadiums and cities of Europe, including Milan, St. Petersburg, Porto and Dortmund. 
Málaga CF's General Manager talks about the union between the two brands: "We've extended this sponsorship agreement with an international, young, dynamic brand, which is important in building the future of Málaga Club de Fútbol.  We're very proud to be associated with this company, and long may it continue."
Dirk Bikkembergs España Executive Director, Luca Pizzuti, also analyses the agreement with the Martiricos Club: "It's a privilege to be here and to prolong our agreement with the Club.  The Bikkembergs style is a combination of sport and fashion, and Málaga Club de Fútbol has the same vision as us.  Why Málaga CF?  Because Málaga is the most spectacular city in Spain, and presents a wonderful opportunity for Bikkembergs."