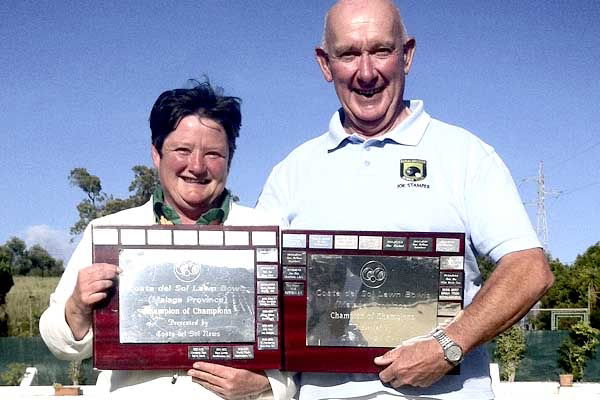 THE annual Costa del Sol Champion of Champions Tournament was held at Superbowl, Aloha. Eight clubs sent their Ladies and Men's Champions to compete against each other in a round robin format.
In the Men's Tournament, last years Champion Joe Stamper of Benalmadena Bowls Club got of to a good start as did Superbowl's Lewis Carline, the youngest player in the tournament.
They were the only players with a 100per cent record when they met in a fourth round game. Joe's considerable experience told and he ran out a big winner. He continued to play outstandingly well and finished the tournament as unbeaten Champion for the second year running.
Lewis recovered well from his heavy defeat and took second place.
The Ladies Tournament was dominated from the outset by Margaret Kain of Santa Maria Bowls Club and another young Superbowl player Simone Morgan.
They met in the first game on the last day when they were both unbeaten, Margaret won by the narrowest possible margin, 21-20, so they went into the last round of games with Margaret in the lead.
Simone claimed a big 21-7 win against Pauline Ball of Lauro Bowls Club so Margaret had to win or lose by less than three shots to claim the title.  But Kate Morris of Benalmadena Bowls Club took a  15-21 win so Simone had become the youngest Champion ever.
Superbowl  also recently held its annual open tournament consisting of pairs and a triples events. The triples final was an all Bena Vista affair with Sandy Guthrie, Neil Marshall and Aussie King claiming victory over Richard Burroughs, Bill Davey and Peter Fry 24-9.
The pairs resulted in a hard fought win for Mike Detheridge (Superbowl) and Kate Morris (Benalmadena) over Richard Burroughs and Peter Fry 16-12.