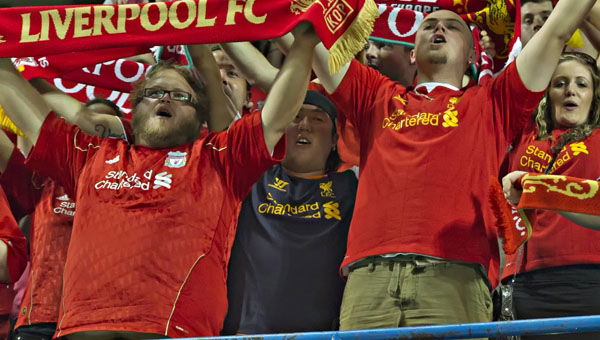 DURING the 1960s, if Liverpool was your hometown, you bathed in celebrity status wherever in the world you found yourself.
This was largely due to Liverpool FC's collection of silverware that lesser clubs could only drool over.
Then there were the Beatles, the Mersey Sound, the city's playwrights, comedians and stage performers. Even Prime Minister Harold Wilson was educated on Merseyside.  Liverpool was said to be the Second City of the British Empire.
The city's Irish links are well known.  Ken Dodd, Britain's much loved comedian, described Liverpool as Murphyside; otherwise, Dublin's East End.  Ireland's capital is in fact nearer to Liverpool than the city is to London.
One can only pity the wasp-tongued uncharitable minority.  Whenever Liverpool's name is mentioned, we hear hackneyed humour that is long past its sell-by date.
What I fail to understand is how anyone, in any country anywhere in the world, can be as hateful to a section of his or her own national community.  It puzzles me.  However, in fairness, wherever I travelled throughout the UK, most people, by far, were complimentary.
An interesting observation was that whenever someone spewed anti-Liverpool spite, dressed up as humour, I would ask. "Have you ever been to Liverpool?" You could presume a negative.
They had never been to the city but felt expert enough to pronounce on it.  Jealousy?  Perhaps.
It could be frustration at their being restrained by law opportunity to heap foul-mouthed abuse on those they consider different.  The myths include the Liverpool citizen's inclination to steal, cheat the system, and their poor dress sense.
Being of the older generation I recall the same 'jokes' being ascribed to West Indians, Africans and Asians.
The law was changed so the insulting remarks suffered by these cultures were instead re-directed at Liverpool people. They are not a protected species.
When I last checked, of the five metropolitan police regions, Merseyside's crime rate was the lowest. London is by far the highest and Tameside (Manchester) endures double Merseyside's crime rates.
Sixteen UK cities have a crime rate higher than Liverpool's. Some will never allow facts to get in the way of myths.
Of the city's many quirks, the humour of Liverpool people is legendary.  Above all else, they love poking fun at themselves.  Nevertheless, when they do so it is said with humour; you laugh with them, not at them. They do not take themselves or their humour seriously.
Some outsiders fail to understand this.  When a Liverpool comedian teases and pulls his fellow citizens' legs about their crime rate, poor dress sense or laziness, we know it is not true. We know he is gently teasing.
Perhaps the problem is that there are some who fail to understand this subtlety. That is a shame, as there cannot be a single Briton who would be anything but the poorer if Liverpool and its people did not exist.