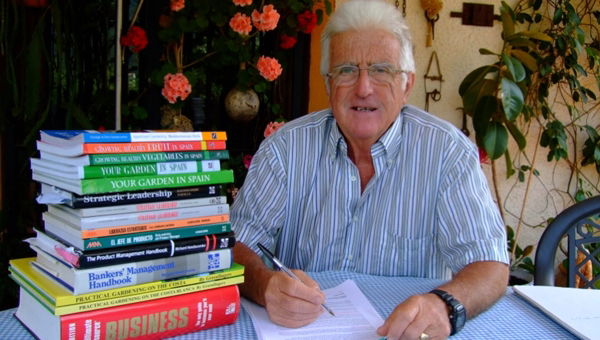 WE hope that all the readers of our columns and books had a good Easter break. Now you can gear up to make the best of the Spanish Spring climate, damp soils after recent rains, spring flowering plants, home grown  produce and garden wild life.
If you are new to Spain, or disappointed with your first few years gardening, our books will help you recognise that gardening here in Spain is very different to northern Europe and enable you to avoid further problems and expensive mistakes.
Although Easter was relatively early this year, many plants and some trees were in flower, and a good number of fresh spring vegetables were ready for harvesting, especially on the coast where peas and broad beans can be up to two months ahead of those inland and up a few hundred metres.
Last week we suggested how you could grow them on a small scale and 'Growing Healthy Vegetables in Spain' and ' Apartment Gardening Mediterranean style' will explain more fully how to go about this. Growing your own makes sense from five points of view.
You can do so ecologically from day one.
There are difficulties of obtaining ecologically grown vegetables in many areas and if they are available they can be pricey and not fresh every day.
You can harvest produce daily, or even just before each meal, when at their best.
You can grow tastier and less tough varieties, including heirloom and heritage variety no longer grown commercially.
You can grow and eat not just by looks, taste, smell and texture but also be their health benefits. The same applies to fruits and 'Growing Healthy Fruits in Spain' covers the growing of more than 70 fruits, many requiring little space or work.
  As explained in our booklet 'Living well from our Mediterranean garden' many fruits and vegetables contain beneficial vitamins minerals and fibres. Some examples are as follows:
Asparagus: Vitamins A, B, C and K plus manganese and selenium.
Broccoli: Vitamins A, C, K and folic acid.
Garlic: Vitamins C, B5, B6 and zinc, potassium, calcium, selenium, iron and copper.
Globe artichokes: Vitamin C, plus iron, phosphorus, potassium, calcium, folic acid and fibre.
Leeks: Vitamins A, C, E, K plus potassium, iron, calcium, manganese and folates.
New potatoes: Vitamins A, C and various B's plus carotenes, iron, manganese, potassium, and fibres.
Parsley: Vitamins A, C, K plus iron and folic acid.
Onions: Vitamin A, plus sulphur and a number of other antioxidants.
Purslane: Vitamins A, B's, C, plus omega fatty acids, iron, magnesium, calcium and potassium.
Romanesque: Vitamins C ,B's, plus manganese, copper and iron.
Almonds: Vitamins E, B2, plus manganese, copper and phosphorus,
Apricots: Vitamin C, plus beta- carotene, calcium, potassium, silicon, iron and phosphorous.
Kiwis: Vitamins C, E, plus fibres, potassium, copper, manganese and magnesium.
Lemons: Vitamins A, B, C and P.
Mulberries: Vitamins A, B, C, E, K, plus potassium, iron and manganese.
Peaches: Vitamins A, C, plus beta-carotene, fibres and calcium.
Red currants: Vitamin C, plus iron, potassium and fibres.
Srawberries: Vitamin C, plus other antioxidants.
Water melons: Vitamins B, C, plus beta-carotene, pantothenic acid, manganese, potassium and fibres.
It makes sense to include these and other healthy vegetables and fruit in your own plantings if your local microclimate allows.
One thing we are starting to enjoy, though a little late this year due to the long dry spell until recent rain, is fresh asparagus. Although you don't have the latter one can hide an asparagus bed in a corner of any garden or along a hedge behind a line of tall plants. A packet of seeds sown during April can produce 30 to 40 plantlets for planting out in a permanent  bed after the autumn rains.
For good crops year after year all the bed needs is an annual topping of composted manure and if possible seaweed from a storm hit beach.
So consider a diet of a diverse mix of home produce rather than pizzas and pills.
Stop press
Just a reminder to readers living in Costa Blanca North that Dick  Handscombe will be doing a gardening question and answer session and book signing at the Quick Save store on the N 332 going north near Pedrequer. The latest booklets 'Having a Great Retirement' and ' Authentic Valencian Paellas' will be available.