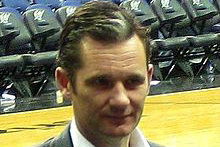 The son-in-law of the King of Spain, Iñaki Urdangarin, has informed the monarch of his intention to take up a job offer in Qatar. 
Urdangarin, gave up his Washington-based job with Telefónica, and is said to have accepted  an unspecified position on the staff of Spanish handball coach Valero Rivera, who has been asked to take charge of the Qatari national team.
Urdangarin and Rivera have been friends since the 1990s, when Urdangarin was one of the FC Barcelona handball team key players and an Olympic star for Spain. Rivera was the coach  at the time. 
Urdangarin is expected to travel to Doha in the coming days to negotiate his contract. Princess Cristina will stay in Spain with the couple's children, at least until the end of the school year.
It is believed the duke will be allowed to travel abroad as the prosecutor in the Nóos case, Pedro Horrach, will not demand that he hand over his passport, despite his status as a suspect in the ongoing investigation.