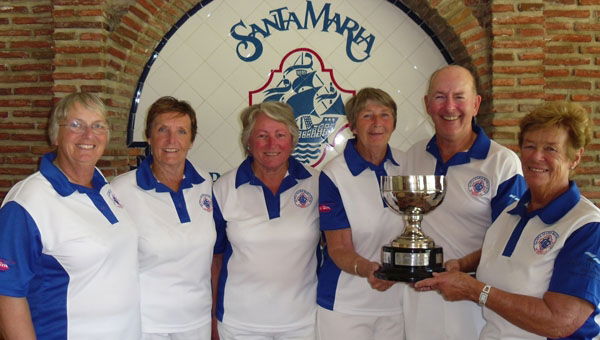 SANTA MARIA Bowls Club held a Grand Finals Day this Season.
With the exception of the Drawn Pairs and Singles Finals to identify the Club's representatives for this year's Champion of Champions event, the remaining finals were played in glorious weather.
The Ladies & Gents 2-Bowl Singles were very closely contested and were nip and tuck throughout.
In the gents final, Stuart Thacker retained his title with a thrilling 21-18 victory over the Club's newly elected Vice-Captain Dale Tomlin.
The Ladies contest, between two players seeking to win their first ever Club title, was a marathon. Ultimately it was Sheila Booton who emerged victorious with a hard fought 21-17 win against Dine Warn.
In the Handicap SinglesPaul Griffith, the only "scratch player" in the competition, had battled through some tough games to reach the Final where his opponent was John Winslow playing off +3.
With Paul holding game at 20-19, and his Bowl resting on the Jack, John's final Bowl of the end rested shot to take the final into a one end shootout. It was John who held on to take his first Singles title at the Club.
In the Nominated Pairs a superb display of lead bowling from Alan Turner was backed up by an excellent Skip's performance from Susan Walker as they won 23-5. Their opponents, Stuart Thacker & Nancy Shaw, played well but had no answer to the relentless pressure.
In the Drawn Triples, one team stood out as being the well balanced unit to take the title. Susan Walker, Mo Huddleston & Dot Clark were the hot favourites against Murray Johns, Phyllis Thomson and, Sheila Booton. The lead changed hands throughout but, thanks to constant pressure from his front end, it was Murray's Triple which edged in front on the 16th end and they ultimately ran out deserving 21-14 winners.
With so few members able to commit to the Champion of Champions, the Club introduced a new competition with Ladies and Gents competing on equal terms.
With the fancied names falling by the wayside at an alarming rate, it was Nancy Shaw and Dale Tomlin who emerged from the pack to contest the final. Nancy took the inaugural Champion of the Club Singles title 21-18.