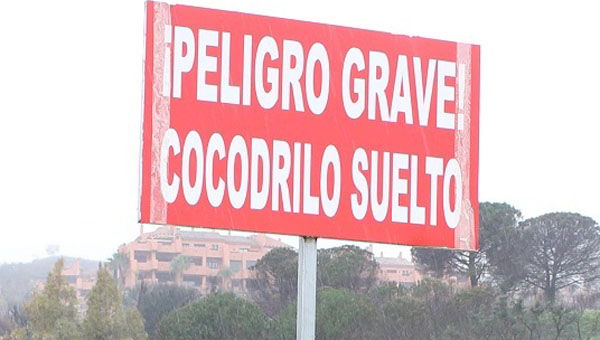 AN alligator may have been on the loose in Mijas for 15 years according to locals.
They say that property where a 'large reptile' has been spotted formerly belonged to a family that abandoned the area leaving a collection of exotic animals behind.
Experts believe the reptile to be an alligator after examining tracks.
Now newly discovered prints indicate that the alligator may be on the move.
The alligator was spotted almost two months ago in the Majada Vieja area, near La Mairena Urbanisation on the border with Ojen. There are several lagoons in the area, and prints were found last month near one of them.
Experts from the TorremolinosCrocodilePark have found a new set of prints at one of the others, indicating the alligator could have been basking in the sun for a few hours.
The experts believe it has moved following increased presence in the area. Locals have been going to the spot to take photos of the signs put up there warning of the presence of 'crocodiles'.
A surveillance tower was installed recently to keep watch for the alligator from 11am to 5pm, and prevent people from swimming in the lake or searching the area.
When temperatures reach an average of 20ºC during the day, it is more likely it will come out more often.
The mayor of Mijas, Angel Nozal, said that the alligator is not likely to attack unless it is harmed or feels trapped.
The aim is to catch it alive and give it to the Crocodile Park in Torremolinos. Traps will be set with rotting meat to lure the alligator.  
The reptile is believed to be an adult alligator about two metres long and weighing 70 kilos.