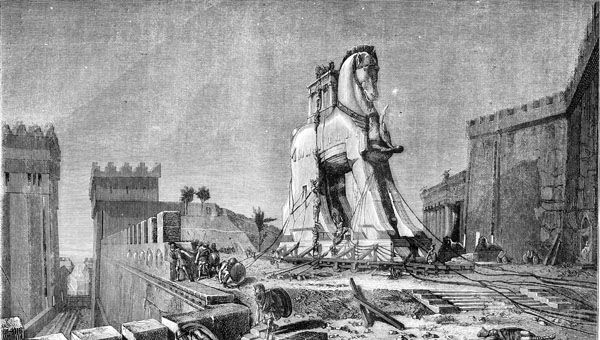 The Oxford English Dictionary defines a siege as: "a military operation in which an enemy surrounds a town or building cutting off essential supplies with the aim of compelling those inside to surrender. Siege warfare is characterised by one party holding a strong defensive position." Jack Gaioni takes looks at sieges through history….
HOMER'S tale of The Trojan Horse is perhaps the earliest account of a military siege.  After a fruitless 10-year standoff with the Trojans, the Greeks constructed a huge wooden horse and hid a select force of soldiers inside.
As subterfuge, the Greeks pretended to sail away in dejected defeat. The Trojans pulled the horse inside the gates of Troy as a "victory" trophy. That night the warriors emerged from within it and opened the gates for their returning army.
Similarly, the infamous Siege of Masadais an event in Hebrew history embraced as a heroic last-stand of Jewish nationalists who chose suicide over slavery in their struggle against the Romans.
Remember the Alamo!is a slogan that holds a storied place in American history. The Alamo was a pivotal event in which 100 Texans defended themselves for months against 1,500 Mexican troops in a gallant defensive stand of courage and self-sacrifice.
In more recent history, the 1942 Siege of Leningrad is considered one of the most destructive sieges in human history. In terms of casualties, the two and a half year siege of Leningrad by German troops resulted in the deaths of 2.5 million soldiers and civilians.
Four thousand people are said to have died by starvation on Christmas Day, 1941.
Sieges have occurred throughout history as myth, inspirational legend, effective strategy and monumental tragedy. This article directs your attention to The Rock or Gibraltar where, for any number of reasons, there have been an inordinate number of sieges. History has recorded 14 significant sieges in this small but unique colony. Consider…
THE strategic importance of Gibraltar throughout history cannot be overstated. Between AD 711 and 1333, The Straits of Gibraltar gained a particularly new strategic significance as the frontier between Muslim North Africa and Christian Spain.  Even though much of the surviving archaeological remains are scanty, it is believed Gibraltar was fortified and garrisoned for the first time in 1160.
Over the next two centuries, no less than eight back and forth sieges saw The Rock pass between Muslim and Christian control. What is known as the Eighth Siege of Gibraltar (1462) was the final successful effort by the Kingdom of Castille to take the fortified colony from Moorish Emirate of Granada. In the next two centuries, Christian in-fighting and questions over loyalties and alliances were the background for yet even more brutal sieges.
Next week I shall look at more of The Rock's history of sieges that have carried on until as recently as 1985.