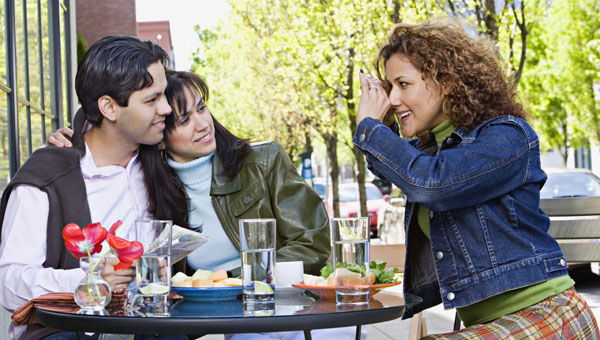 SOME New York restaurants have banned diners from photographing their meals because they feel it's distracting and spoils "the ambiance".
I suppose, then, it'll be only a matter of time before the same ban hits UK restaurants.
Now, there are many Brits who don't understand this need to take pictures of food. The last thing they want is to see them plastered all over Facebook, Instagram or Twitter.  Who cares what others eat? They think the only people who need such pictures are food magazine writers and cookbook authors.
However, what's the difference between people taking photos of their food or people taking photos of one another? It's all about documenting a memorable occasion.  And for the restaurant it's free advertising.  How isn't that positive for any restaurant?
Incidentally, UK charities and police report a surprising increase in the number of people shoplifting basic groceries from supermarkets.  So a tale of two halves here? Those who photograph their meals and those who steal them.
And still on the subject of food, much has been written about the late movie director Michael Winner, latterly restaurant critic ("Winner's Dinners") for the Sunday Times.  How he was the bane of restaurateurs for his allegedly outrageous behaviour.  A friend of mine, former chef-owner of a top Kensington restaurant who now runs a Michelin-starred restaurant in his own country house hotel, dreaded the inevitable visit.
Now, I never spoke to Michael nor do I wish to namedrop, after all nobody could excel the master in this respect ("Marlon Brando" clunk! "Fay Dunaway" thud!).  However, I remember several occasions when I was seated nearby – he at his favourite table – at the Ivy restaurant in London.
On one occasion years ago, the large table next to his was occupied by Britney Spears and an increasingly noisy group of friends.  During the course of the evening, these friends repeatedly jumped up and sloped past Michael's table presumably to the lavatories.
Michael didn't comment, let alone flash his napkin.  In fact, unlike the behaviour of Britney who clearly relished the attention she and her guests were attracting, he kept as low a profile as possible. The model guest. Totally unlike the picture painted of him. RIP Michael – in foodie heaven. They don't make them like you anymore!
Nora Johnson's thrillers 'Soul Stealer' & 'The De Clerambault Code' (www.nora-johnson.com) available from Amazon in paperback/ eBook (€0.89;£0.77) and iBookstore.Profits to Cudeca