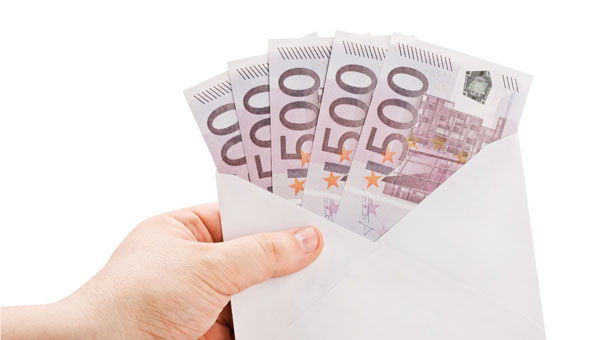 AN ex-treasurer of the Partido Popular (conservative) has stirred things up with his assertions that he paid 'bonuses' to the then leaders of the Spanish political party with money from 'black' contributions.
Of course, the present PP leaders are strenuously denying any such payments
in "cash, envelopes, or any other form", whilst the main opposition parties, PSOE (socialist) and Izquierda Plural, are baying for blood.
The present PP leaders have announced, publicly and repeatedly, that the anti-corruption policy of the party is that assertions will always be investigated and rooted-out.  Maria Dolores de Cospedal, one of the two vice-presidents, has warned: "If you have taken part in any such activity, you will pay the price."
You'll note, if you've been following this story, that up until now there is only the ex-treasurer's word that any of this occurred, and one might be forgiven for asking how he could have paid out these 'bonuses' whilst at the same time allegedly accruing millions for himself, to be salted away in a secret Swiss account.  
Diverging for a moment, I wonder how many cases of corruption and fraud will come to light now that Swiss banks have begun to reveal their secrets.
The opposition parties are demanding a full parliamentary commission to investigate the matter, whilst the PP for its part has announced that the party's finances, in their entirety, will now be thrown open to an independent auditor.
It goes on and on; accusations and denials, but to what purpose?  The opposition is saying this will not do, and that the parliamentary commission is the only way forward if the truth is to come out, putting the government in the unenviable  (and perhaps legally questionable) position of proving a negative!
Do these politicians give even a passing thought to what they are doing, as distinct to what they were elected to do?  The present PSOE and Izquierda Plural leaders, Alfredo Rubalcaba and Lara Cayo appear to be interested only in creating turmoil and blackening the reputations of their opposite numbers on the government benches.
Understandable perhaps, but hardly representing their obligation to the country, which surely is to question, modify where possible and ameliorate, policies which they feel they have a right and a duty, to oppose.
But look: if corruption, with its concomitant possible fraud, has really taken place, shouldn't that be for the National Police and maybe the Guardia Civil to investigate? Crime is crime, after all. It's possible that Luis Bárcenas, the ex-treasurer, did pay 'bonuses', creating a pool of accessories who would keep their mouths shut and thus conceal his real activity, which was to set up a personal Swiss account.
Should this prove to be the case then no doubt there will be a number of long-retired politicians trembling in their boots.
This opening of formerly-secret Swiss accounts could turn out to be a world-wide Pandora's B ox'.