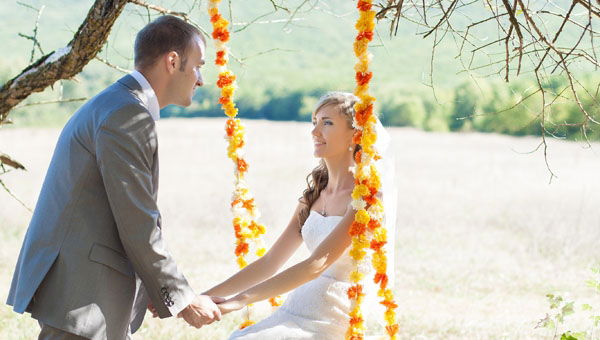 IF you have made Spain your home and are planning to get married, you may want to do so here. But just how do you go about it?
To help you through the red tape it is well worth finding out if your local town hall has a foreign residents' department.  Often they can help you through the process in your own language.
The first step is to contact the relevant authority (town hall/registry office/district court/religious authority) where you are planning to hold the wedding, to find out which documents they require.
Civil marriages
Applications for civil marriages must be made to the Civil Registry, district court or town hall where the marriage is to be held.
It may take some time to get an appointment and for paperwork to be processed, so contact them as soon as possible.
Religious marriages
Requirements for religious marriages vary according to the denomination and area in which applicants live. Religious marriages are recognised as legal under Spanish law, but to obtain an official marriage certificate, the marriage must subsequently be registered with the local civil authorities.  It is important to confirm that the officiator of the marriage is licensed to marry and check whether the officiator will register the marriage on your behalf or provide you with the paperwork to do so yourselves.
Marriage Banns
This is an Informative Note you may need to submit to the Spanish Civil Registry which explains the Notice of Marriage process. There are two versions: The first is for those who have given Notice of Marriage at a British Consulate in Spain or in a British Consulate in another country and the second version is for those who have given Notice of Marriage in the UK.
Documents issued by British Consulates in Spain
Certificate of Marital Status 
You may require a document to confirm your current marital status. To obtain it you will need to ask a solicitor to draw up a declaration for you to bring to the Consulate printed on their headed paper.  You will need to swear and sign the document in front of the consular officer during your appointment.
Certificate of No Impediment
To obtain the certificate, which confirms there is no reason why you can't get married, you will need to publish your banns. Check with your local Spanish civil registry if you require this, and visit the following site, as instructions on how to obtain it can vary. http://ukinspain.fco.gov.uk/en/help-for-british-nationals/notarial-and-certificates/cert-no-impediment
Proof of previous or current address in the UK
The Spanish civil registry requires proof of where you have been living during the last two years.  If you are getting married and have not been registered two full years at the local Spanish town hall prior to making your application to get married, or if you are not resident in Spain but are getting married to someone who is resident in Spain or is a Spanish national, you will need this letter.
Consular Registration Letter
It is not obligatory to register at the nearest British Consulate, however, if the Spanish authorities insist on you submitting proof of registration your nearest British Consulate will be able to provide it.
Documents obtained elsewhere
UK life event certificates
British Birth-Death-Marriage certificates, recently issued, legalised and translated, and copies of British Divorce decrees should be obtained from the General Register Office in the UK. www.gro.gov.uk/gro/content/certificates/default.asp
Certificado de Empadronamiento (Town Hall Registration Certificate)
Registering on your local 'Padron' is a process which varies from one town to another, so approach your town hall first to find out exactly what you need. However, proof of identity, your NIE number and either the title deeds or the rental contract to your house are needed.  A form will be provided for details.  Registering is a fast process, but normally, you will need to wait about a month until you can request the certificate, again via a form at your local town hall.
Legalisation/Hague Apostille
Legalisation is the official confirmation that a signature, seal or stamp on a UK public document is genuine.  The website of the Legalisation Office in the UK has detailed information.
http://www.fco.gov.uk/en/about-us/what-we-do/services-we-deliver/legal-services/Legalisation
Translation of documents
British birth/death/marriage/divorce certificates /Home Office certificates may need to be translated, and the translation needs to be an official, or sworn, translation.
Contact a sworn translator for this. Those registered with the Spanish Ministry of Foreign Affairs can be found here: www.maec.es/es/MenuPpal/Ministerio/Tablondeanuncios/InterpretesJurados/Documents/2012DICIEMBRE_IIJJ.pdf
British Consulate appointments
To get the documents you require from your nearest British consulate, you need to make an appointment, and this can only be done once all supporting documents have been received by the consulate.
You must take all the original documents to the appointment
Fees for consular services can be found here:
http://ukinspain.fco.gov.uk/en/help-for-british-nationals/notarial-and-certificates/consular-fees
Here are a few words you may need to get married in Spain.
Casarse – To get married
Quiero casarme – I want to get married
Boda – wedding
Empadronamiento – Registration at town hall
Ayuntamiento – Town/City Hall
Registro Civil – Registry Office
Juzgado – Court
Iglesia – Church
Religioso – Religious
Documentos – Paperwork
Cita – Appointment
Oficiar – Officiate
Certificado – Certificate
Estado civil – Marital Status
Traductor jurado – Sworn Translator
Facing a road-side breath test
DRIVERS can not refuse to take a breathalyser test.  If they do so they can be accused of committing a crime of serious disobedience which can lead to between six months and a year in prison, as well as a driving ban of between one and four years.
Pedestrians can also be asked to take a test if involved in a road accident.
However, after the first test, 10 minutes must pass before a second one is carried out to confirm the result.
The driver has the right to:
–       Have someone else present to check that 10 minutes have passed between tests.
–       Appeal the results.
–       Demand a blood test to confirm a breathalyser test.
What are the permitted alcohol levels?
For an experienced driver (holder of a licence for more than one year): 0.25 milligrammes of alcohol per litre of air and 0.5 grammes per litre of blood.
New driver (held a licence for less than one year): 0.15mg/l of air and 0.3g/l of blood.
Professional driver (for example a bus/taxi driver): 0.15mg/l of air and 0.3g/l of blood.
For an experienced male driver weighing approximately 70kg, the maximum would be two normal strength 33cl tins of beer, two-and-a-half glasses of wine or two glasses of whisky.
However, alcohol levels can also depend on:
–       What you drink
–       How fast you drink
–       Whether you have eaten
–       Weight
–       Gender
–       Age (alcohol has worse effects on those under 25 and over 60)
Did you know?
THE largest group of foreign nationals in Spain is Romanian, with 913,405 residents. The UK is in fifth position, with 246,533 British registered as living in Spain.
In total, there are 5,363,688 foreign residents in Spain registered at their local town halls or who have valid residency permits.  Unregistered residents are not included in the figures.