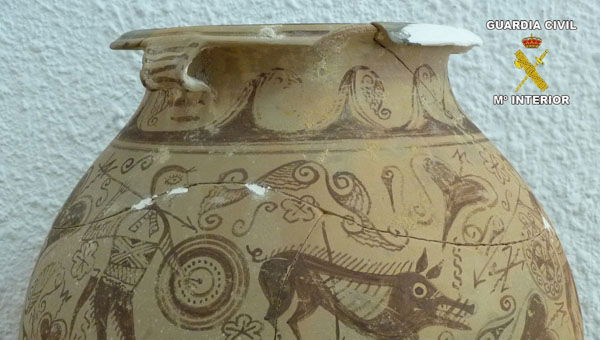 AN Iberian pottery jar, hailed as unique, could be a fake.
The authenticity of the jar, decorated with hunting scenes and believed to be 2,200 years old, was questioned by specialist Carmen Aranegui. 
"It is probably not genuine," warned Aranegui, a professor of archaeology at Valencia University.
Similar jars had appeared in the last year, all in the same condition, she said.  All were decorated with Iberian motives, all were reconstructed and repaired with white plaster.  All turned out to be fakes, she added. 
The professor, an expert in Iberian ceramic, admitted only having seen photographs of the pot.  But its frieze contains "a suspicious combination" of identical features from other authenticated pottery from the same period, Aranegui said.
It is a very skilful fake made by someone who knows about ceramics, she said.  The regional government should have allowed the pot to be inspected by specialists first, she maintained.  Instead, it was acclaimed as "exceptional" after being examined by Jose Luis Simon Garcia, an archaeologist from the regional government's Culture department.