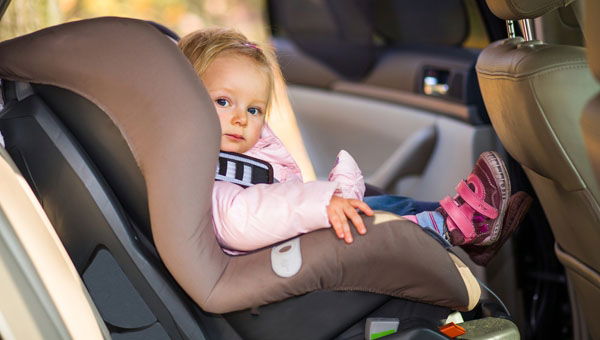 Children 75 per cent safer when facing back
REAR facing children's car seats could save lives and reduce the risk of injury by 75 per cent.
That is the message from a study carried out by a Spanish motoring organisation.
Last year 39 under 14s died in Spanish road accidents.
It was an increase of 13 over 2011, despite the number of deaths amongst all age groups falling 180 over the same period.
In Spain, a total of 1,304 people died in out of town road accidents during 2012, the General Traffic Management (DGT) reported.  Deaths on urban roads were not included in the statistics.
The only other age group that showed a rise in accident deaths was the 75-84 year old group which saw 10 more killed for a total of 141.
The Royal Spanish Automobile Club (RACE) and car seat manufacturer Cybex sponsored a DGT backed study into rear facing safety seats with passenger airbags turned off.
Currently all children using Group 0+ boosters, designed for children up to 13 kilos, must face rearwards by law.
RACE commissioned an independent laboratory to perform crash tests with Group One rear facing and forward facing seats for children between nine and 18 kilos.
The results, after performing 64 kph head on collisions tests, revealed that rear facing seats reduce the chance of injury by as much as 75 per cent.
In normal forward facing booster seats children are at more risk because their head is unprotected and jerks violently with whiplash.
This, safety experts found, can severely injure the neck and spine and even lead to death.
But in order to fix a rear facing Group One booster the car should be fitted with not just an IsoFIX system, but also a special seat adapter.  IsoFIX is the international standard for attachment points for child safety seats in passenger cars.  Many older cars do not have it, and not all child seats can use the system.
And a child's height is also a factor.  RACE's study does not specify a maximum height a child can be to comfortably fit in a rear facing seat.  So it will be up to parents to decide if the child's height and weight as well as the size of the car make rear facing safety seats suitable.
More information: www.race.es
BOOST FOR KIDS
-Out of 1,000 drivers surveyed by RACE, 95 per cent said they use booster seats for their children, with 52 per cent of them equipped with international standard IsoFIX anchorage points.
– Grandparents are sharing the wheel with 19 per cent now regularly driving their grandchildren – mostly on the school run – up from 10 per cent in 2011.
– 19 per cent of drivers reported experiencing an accident or hazardous situation with children on board.
– 54 per cent think it is safer to have front facing child seats.  Rear facing seats got the vote of 21 per cent of drivers with the remaining 25 per cent not knowing.