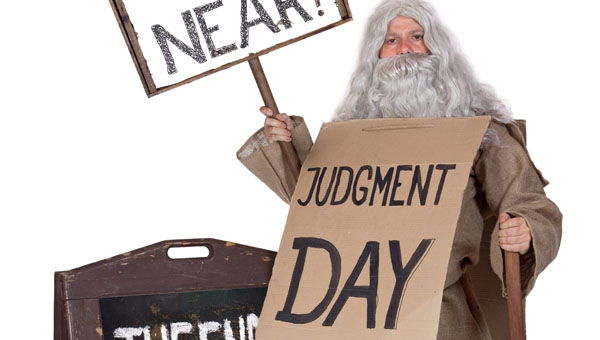 AT the time of writing, thousands of people will be wondering why I'm even bothering! I know I know, so what's new about that?  Cheeky.  I'm actually talking about the people who believe the world will come to an end tomorrow.  Due to the yuletide holidays all column scribblers need to present their copy at an earlier date.
This means tomorrow will be the 21st of December; the day literally hundreds of thousands of supposedly sane human beings will tuck their heads between their legs and kiss the world goodbye. If you're reading this of course, then yet another loony load of sad idiots will all be wondering what actually didn't hit them? (If you're not….!) Seriously, what is wrong with these people?
This latest bunch are the believers of the Mayan calendar, which has been in existence for thousands of years and goes out of print permanently tomorrow, presumably along with the demise of the planet (and I've bought a ticket for El Gordo. There's optimism for you!).
Hundreds of thousands across the world will have woken in the morning, firmly convinced it would be their last day on earth. Is that depressing or what?  Actually I don't find it all that funny.  These cults often have truly disastrous ends.
Among others, Wacko, Haley Bop and the Jones cults resulted in mass murder and suicides. 
How do vast numbers of the human race allow themselves to become brainwashed by these people, who seem to pluck some strange idea out of thin air and turn it into a belief that makes people often hand over all their worldly possessions and blindly follow them, often literally, to the death?
I wish I knew.  I'd love to be able to spin a story that made people delighted to give me all their readies.  Don't worry, I'm working on it.  I've actually had some strange premonitions about next leap year.  Who better to save you all from disaster than yours truly my namesake year?  All donations and worldly goods to the offices of the Euro Weekly News.  Get ready for the deluge chaps.  Dream on Leapy.
Hopefully you're all perusing this in the relative safety of a planet still in one piece.  Let's hope this year is a better one for all.  Somehow I'm afraid I doubt it.  Never mind. Positive thinking is what we need.  Feel secure in the knowledge that a whole new bunch of X Factor contestants are out there just waiting to entertain you. Makes it all seem worthwhile.  Amazin' ennit? 
Happy New Year to you all.
Keep the Faith
Love Leapy.  Leapylee2002@gmail.com