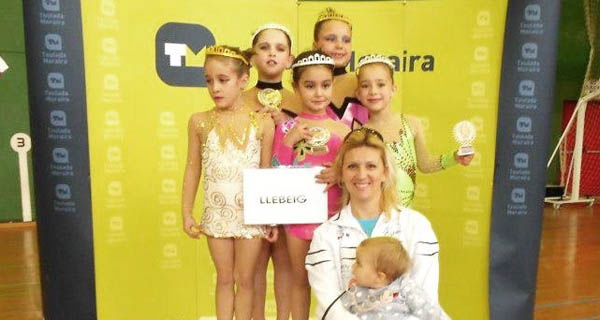 TWENTY-EIGHT gymnasts from 12 regional clubs took part in Teulada's "Mini Princesses Trophy."
The event for budding gymnasts aged between 6 and 7 was organised by the Llebeig Teudalada-Moraira Rhythmic Gymnastics Club. 
This was the first edition of the competition, said the club's president, Sandra Romero, and was well-participated, she said.
Of the club's five competing gymnasts, three won awards.   Julia Tent, whose first competition this was, took a gold medal, while Luna Mañas took second place and Paula Ivars coming third. 
The clubs other "mini-princesses" who took part – Sofia Campilongo and Luna Llobell – both came fourth in different categories.
The successful results were a satisfying reflection of the work put in by these young gymnasts, Romero said, and the audience also enjoyed the occasion.
Events like the Mini Princesses Trophy are vital because they are exciting for the gymnasts and encourage them to carry on with the sport, she added.