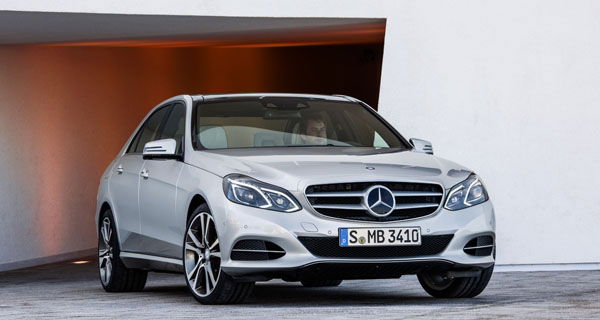 WITH new, efficient engines, new assistance systems and a new design idiom, Mercedes-Benz has modernised the E-Class.
In both the Saloon and Estate models no less than eleven new or optimised assistance systems from the future S-Class celebrate their world premiere.  They combine a host of comfort and safety features, all of which Mercedes-Benz refers to as 'intelligent drive'.
They include systems which for the first time can help to prevent accidents with vehicles or pedestrians crossing in front, active Lane Keeping Assist which can help to prevent accidents with oncoming traffic, or anti-glare continuous high-beam headlamps. Prices will start at €40,150. 
The new E-Class makes a step forward when it comes to efficiency and ecology too. This comes courtesy of new, powerful BlueDIRECT four-cylinder petrol engines featuring sophisticated direct injection technology.  Both the E-Class Saloon and Estate are available with a particularly broad range of powerful and efficient petrol and diesel engines. All are fitted with ECO start/stop system.
The engine also sees the world's first use of the stratified lean burn process in combination with exhaust-gas turbocharging and external high-pressure exhaust gas recirculation, the company said.  As a result the E-Class achieves a combined optimum consumption figure of 5.8 litres per 100 km (corresponding to 135 g/km CO2), and is therefore the only vehicle in this class to achieve efficiency class A.
The interior has also been visibly reworked and harmonised with the expressive exterior.  High-quality materials and refined, subdivided areas with precise joints and sharp curves underscore the high-quality overall impression of the generous interior.
Mercedes' latest range is already fitted with a comprehensive series of appointments as standard.  The new options, meanwhile, include hands-free access. 
"With the new E-Class we are setting down clear markers in the areas of safety, design and efficiency.  It brings lots of technical innovations to the road and is without doubt the best E-Class ever," Dr Joachim Schmidt, responsible for Sales and Marketing said. "This is also reflected in its design and lovingly revised interior.  As a result it brings a breath of fresh air to the luxury class.  The E therefore continues to stand for the leading position in this demanding segment."