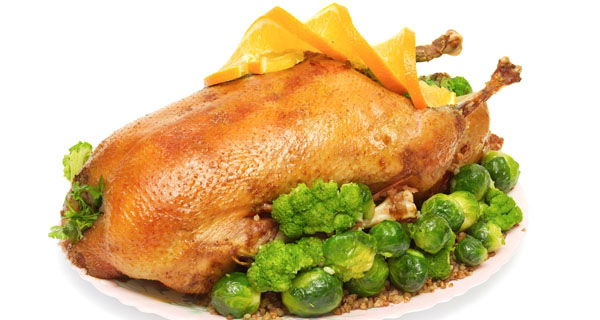 Stars twinkling in the clear night sky and I'm thinking of goose.
Not geese, just a single plump roasted goose.  And small orphan boys doffing their caps at rich gents on a snowy street in London. I am coming over all Dickensian again, which is never good for the soul, all that angst and poverty and "Gor blimey guv give us a farthing, won't yer."  Why is it that Christmas in this guise is so familiar to us?
I certainly wasn't born during the reign of Queen Victoria and yet images from the 1800s seem as real to me as those from my own childhood in the seventies (1970s).  I've never eaten goose or figgy pudding and yet I will feel intense nostalgia at the mention of this seasonal fare.
Obviously countless films and television programmes are to blame but so too is the wonderfully evocative writing of Charles Dickens, who was not only one of Britain's finest authors but also utterly bonkers.  There are stories of him acting out scenes from his novels on top of bar room tables.
His favourite character was the revolting Daniel Quilp from The Old Curiosity Shop and Dickens would revel in a dribbling, mean eyed portrayal, happily scaring maiden aunts and scandalising society (oh to be able to scandalise society).
Or the wonderfully scary morality tale A Christmas Carol, conjuring up miserly men and haunted spirits clanking chains and howling in the darkness.  Scrooge is such a miserable human being yet Dickens' gift was the ability to write of redemption through charity, something he was passionate about.
Of my own childhood memories the most vivid are of waking at dawn to find a pillowcase stuffed with toys at the end of my bed.  My brothers, sister and I would creep downstairs to sit under the Christmas tree and play, more often than not with the box the toys came in.
After an agonising wait for my parents to emerge bleary eyed from bed (a little Christmas Eve tipple too far) we would have breakfast then open our main presents.  Christmas dinner was always a lively fun filled, belly busting affair and then we would settle on the settee taking turns to rummage inside a tin of Quality Street to watch The Morecambe and Wise Christmas Special and Top of The Pops.
We were lucky, even though we were not a wealthy family my mother always made Christmas magical for us.  My one regret is that my own son has not experienced the joy of sibling friendship (one was enough) but I try, and this year I will cook the full monty, pigs in blankets, cranberry sauce and stuffing, followed by flaming Christmas pudding.  In keeping with family tradition I will get riotously drunk, argue with my wife (!) storm out into the snowstorm and never be seen again (or maybe it would be better to just forget about that side of the family).
Anyway, by the time you read this Christmas will be gone and the New Year will beckon with its promise of good things to come.
Left over figgy pudding anyone?