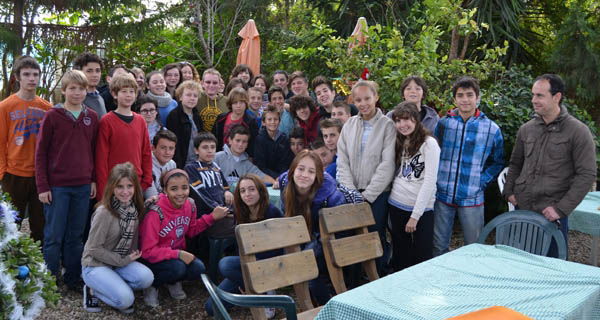 STUDENTS from the European School of Alicante have visited the Easy Horse Care Rescue Centre in Rojales to learn about how a charity organisation works.
Debbie Nicholson, co-ordinator of moral ethics from the school, said the students from year 3, aged 13, have been looking at global charities such as Save the Children and Oxfam and the issues surrounding getting the money raised to where it needs to be. "We wanted to see a working charity and see the whole process from how the money is raised to what it is spent on and the work they do."
The 40 pupils first visited the Rescue Centre's charity shop in Guardamar and each donated an item. Here they could see how their donation will be sold to raise money.  Upon arrival at the Centre, they had a guided tour and learnt about the history of the charity, its new 'foundation' status and their hopes and challenges for the future. They were also able to ask questions to the equestrian vet.
Sue Weeding, co-founder of Easy Horse Care was delighted to welcome the group and honoured that they had been chosen as a model for their studies. "This is, hopefully, the first of many school visits. Part of our charter as a foundation is education and it has always been so important to us to educate the future generations about animals and animal welfare." She continued, "We wanted to show them that everyone can make a difference and that we are all capable of doing something, anything is possible."
The Rescue Centre is currently raising funds to purchase a tractor and the school wants to help out. The teachers intend to run some sort of competition to come up with the best fundraising idea to try and raise money for the cause.