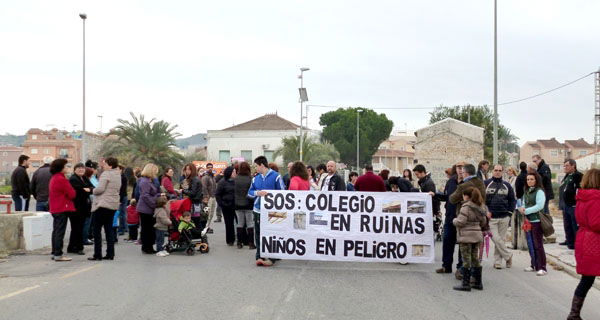 AROUND 200 parents. students, politicians and neighbours brought Rojales to a halt in a series of protests.
They are fighting against the state of the infant and primary school in the town which has been described as a 'pit of terror.' 
The demonstration was organised by AMPA, the parents association of the Colegio Público Príncipe de España, who want the Education Department to fulfil their promises and build a new school.
In a state of disrepair for over a decade, the renewed protests come after a 20-kilo piece of concrete fell off the building , landing on the patio where children play.
The protesters gathered at different points cutting off all entrances to Rojales, before meeting outside the Ayuntamiento. The three main political parties in Rojales were represented, headed by Mayor Antonio Perez (PSOE).
They continually support calls for a new school and question why the funding has not been forthcoming from the Education Department.
Parent Rachel King calls the school a 'pit of terror' and joined a group who travelled to Valencia last December to lobby the Government.
She says another trip is planned as they continue to battle to secure a safe school.