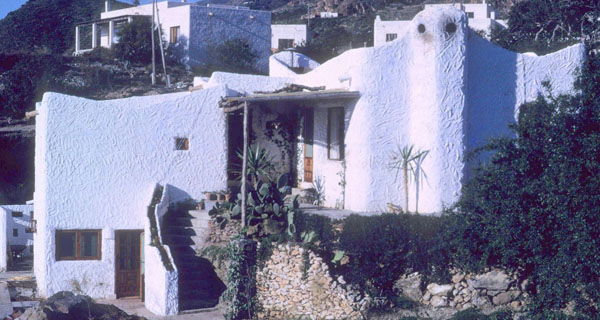 The early 70´s in Mojacar was the best of times and the greatest of times. Almost anyone you spoke to was interested in having "their place in the sun." Since the average cost was less than $10,000 for a 2-3 bedroom house with land people bought as if I had a stand in the Sahara desert selling ice cold beer. They cued up, waited and pleaded to buy. I calculated one night that at the current rate of sales I could buy the Province of Murcia by January of next year.
   Early in the morning came the Spanish eager to sell their prized possessions. "Land that had been in their families since before the Moors arrived". Incredibly large tracts of land. From the beach to Antas then over to Lorca and then down to the sea. That was about 5000$ If you had it. The Spanish came in droves and didn't wait patiently for their turn. They barged in, grabbed you and shoved wrinkled crumpled yellow sheets of very old paper and hand drawn sketches in your hand. Ten thousand orange trees, more olive trees than they could count, chickens, horses, and pigs, each of which had a name. If you balked or hesitated in the slightest they would offer their daughters, sons and their favourite burro. A deal simply had to be done. Trouble was only 1/5000 had legal title deeds. This complicated the issue because you then had to go to each of their neighbours that bordered the property and have them sign a map and legalized paper to attest to the fact. Trouble was, you could French kiss and snake a lot easier. Once you tried to walk the land with the seller you'd better be quick to run as you'd be greeted with buck-shot and a lot of angry words and disparaging remarks. Friends that once greeted you as one of the lost Three Kings now sent their wives to the end of the field to wield knives against you should you make it that far. None of them minded you buying—unless it was from someone else. Let alone a close neighbour, relative or life long friend was an "insult" beyond imagination. If you were gonna buy his land, you had to buy theirs too.
That wasn't the "only troubles". All of a sudden while erecting the houses we soon discovered no one could read plans or even the sports pages. If you didn't sit on the site all day with the workers they were just as capable of putting windows in the ceilings as 6-7 doors next to each other in the back of the house. Getting the plumbing put in was a "delicacy" that was never mastered by anyone from around the area  and a lot of hard work and lengthy explaining time was taken up discussing this minor frivolity. Then there was the electrical circuitry that was always hammered into the block walls after the fact (when the building was plastered and nicely finished).
   The most distinguished master builder was one that could make the chimneys. Now that is an art form as much as proper swimming pools. And "trouble was" they all thought they were the best and most complete engineers and masons the world had known but over the course of construction you soon found out that putting up a house was just as easy as launching another rocket to the moon built by using Lego parts. And, if you left the construction site for the slightest excuse you were committing a mortal sin that always proved irreparable and incredibly costly to remedy. Trouble was, if you asked a man to dig a trench and turned your back on him for more than 20 minutes he'd dug over the hill and half way to Carboneras. Always singing. Always pleasant. And very hard working. But if you paid them on Friday evening all that you owed them you wouldn't seen them until each worker's individual fiestas had run their course and his wife would return him back to the job by his ears with the self imposed guarantee that she had to receive half the wages or he wouldn't be back again—ever! Trouble was, I had a lot to learn. And it all was more complicated to me than rocket science.