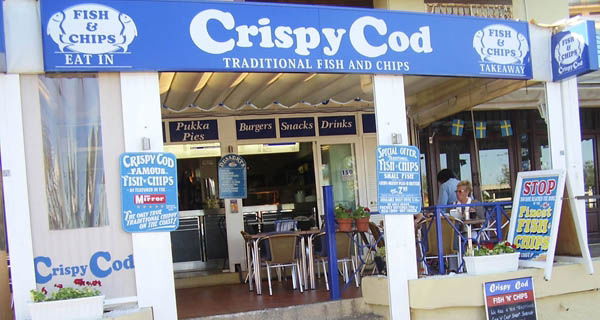 FISH and chips are still considered the UK's favourite food and on the Costa del Sol.  'The Crispy Cod' is considered one of the top authentic 'Chippies'.
In 2010, the 150th anniversary of that great British institution the fish and chip shop, was celebrated.  At that time the Crispy Cod, in Fuengirola,  was named as the best fish and chip shop on the Costa del Sol in a survey published in the Daily Mirror, naming five of the top chippies in the UK and abroad.
At the Crispy Cod you can eat true, authentic fish and chips, not to be confused with the pre-battered then frozen 'fish' presented by many establishments.
The cod is Icelandic, deep frozen at sea to preserve its flavour and when cooked the fish is moist, meaty and full of good flavour, the meat comes away in large flakes as you'd expect. The batter is one of the highlights, deep-golden in colour made from scratch to Crispy Cods own recipe and is flaky rather than crumbly, and the dry, crisp chips actually taste of potato.  All the food is prepared in the gleaming open kitchen and the fish fried in the traditional deep fat fryer.
When Sean took over the Crispy Cod in 2008 his aim was to become the number one destination on the Costa del Sol this is an aim he achieved and the Crispy Cod now has regular customers who travel from as far as Granada, Marbella, Estepona and Nerja to sample his fine Fish and Chips.
Crispy Cod have a complete menu including haddock and plaice to chicken, burgers, sausages and pukka pies. You can view the menu on line at www.crispycod.com,  and you can pre-order via telephone to avoids having to wait when they are busy or to Take Away.  You can eat inside or on the weatherproof terrace with attractive views over the beach to the sea, and there is ample parking.
So, if you are looking for true traditionally prepared Fish and Chips look no further than the Crispy Cod. You will not be disappointed.
Crispy Cod
Paseo Maritimo
Fuengirola
952 587 351