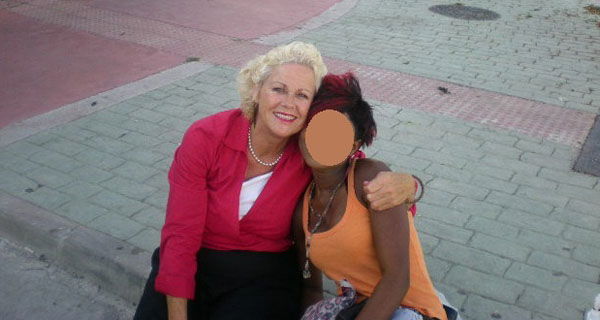 REVEREND Joyce McNaughton, a Costa del Sol based American, is passionate about the well being of the region's ladies of the night. Most evening she takes the Church and its comforts to them. Mike Walsh talked to her…
 Are you motivated by need for converts or desire to help girls?
People are the world's most precious asset. All need help and our gifts should be shared and given to others.
 Are you morally judgmental?
I leave God to do the judging. All of us are tempted to negative pulls but we don't have to take them.
 Is there a language problem?
The girls mostly speak English and our helpers know Spanish. They give the girls their kindness, their love and support too.
 How long have you been active?
In 2007 I began phoning girls through adult relaxation columns of English language media; making appointments for coffee: street work, advertisements and brothels. My work of teaching and presenting God's love has been going on since I made my peace with God and accepted His call for my life. 
 Are the authorities helpful?
Government can offer assistance.  Police never bother me but girls hide as many don't have documents. 
 Do you guide girls to conventional means of making a living?
I guide and suggest, encourage and dream with them; provide, no. This is where others could be of help. 
 Are you ever threatened?
I have been solicited. I remain alert and cautious. I prepared a short note to give to the girls' clients. They are valuable too, but lost and at times devilish. 
 How do girls respond to you?
Acceptance, appreciation and thankfulness as my love is felt to and for them.  Love opens doors like nothing else.  They know who I am, what I stand for, my purpose for being there and trust me.  They often times ask, 'aren't' you going to pray for me.' They engage in natural conversations and not only the Bible. I know them by name. I invite them to my home or meet them at theirs.
 Have you had success?
Yes.  Many have come and gone.  I don't know if they are in a new city, but know they were touched by God's love; seeds of faith and hope were planted in their souls, which is where truth and power of change originates. I visit the girls' churches they attend on Sundays to join with them in that important activity of their lives. 
 Have you worked elsewhere?
Only Spain but in the United States I look for ways to learn from similar help groups; team up financially or educationally. 
Would you welcome assistance in any form?
Every good work needs assistance from like-minded team players; employment, friendship, advice, financial support. People who love others know when and how to help. I welcome assistance at all levels. 
 What is your message to government?
Be a part of the solution and not part of the problem; don't abuse people for your own pleasure or gain. You are created to be a servant to others in both structure and spirit.
email:  [email protected]