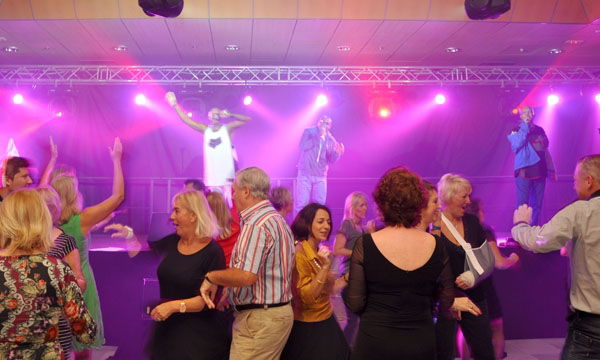 WITH more than 75 years in the entertainment business between them, two soul acts gave performances to remember during a tour of Spain.
British group The Real Thing and American singer Alexander O'Neal brought an eclectic sound of rhythm and blues to the Costas when they performed a trio of exclusive concerts – some a sell out – on the Costa del Sol and the Coast Blanca.
And an added bonus for the audience was compare Dan 'The Man' Davies with a variety of old classics.
The Real Thing opened their performance with hits from their 40-year span in the music industry, including their chart-topping  You to Me Are Everything, with some in the audience taking to the dance floor as the group also entertained with a 1970s and 1980s medley.
And the soothing tones of Alexander O'Neal also encouraged on-lookers to get up and dance and at one point during his Costa del Sol show, the R&B singer invited the concert-goers to join him on stage, grooving to his top hits including Criticize, Fake, and If You Were Here Tonight.
At a VIP after-show party lucky guests mingled with and both acts who happily posed for photographs.
"Our show in Denia was great," said vocalist and guitarist Eddie Amoo following The Real Thing´s second performance on the Costa Blanca.. "We were coming to Spain for years before we made it big, doing the club scene in Madrid, Barcelona, Valencia."
He added: "Three of our hits have become classics and we have always had a strong live show, so have retained our audience over the years who return again and again. We are the backdrops of many people's lives and that is quite touching."
Organiser of the concerts John Khan from Heatwave Promotions said, "It has been another successful event at all locations, so much so that we actually had around 200 people try to turn up to the San Pedro del Pinatar event for tickets but it was a sell out."
The concerts were held at the Don Carlos Hotel in Elviria on the Costa del Sol and at The Denia Marriot Hotel on La Sella Golf Resort in Alicante, and at La Casa del Reloj in San Pedro del Pinatar on the Costa Blanca.
Show sponsors were the EWN, Spectrum Radio, Iceland food stores and telecoms company Telitec.