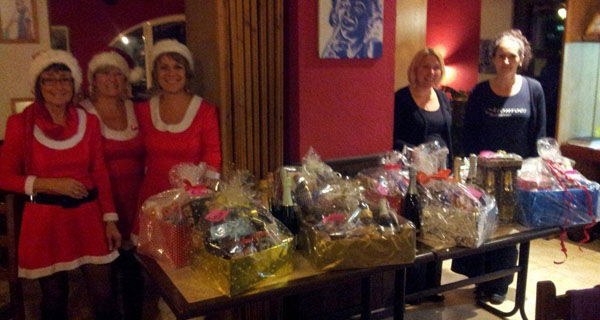 The fun packed evening at Monroe's Carvery in Pedreguer provided lots of laughs and mayhem and there was a full house at for John´s Barmy Bingo night with the  money raised  going towards the Red Cross Appeal for Families in Need at Christmas.  The event was amazingly successful and raised a magnificent sum of €1,263.   The money will be spent on food essentials and toys for children at Christmas. 
The prizes for the winners of the bingo competition were hampers of luxury items, all of which had been donated by the local community.  Karen of Monroe's said, "I never dreamed that the kindness and generosity of the local community could be so great. 
The event was organized after Sandy Tsalikidis a Javea Resident had a meeting with the Red Cross to discover how bleak Christmas is going to be for those families who have found themselves in hardship.  
Jose Luis Domenach, The President of the Red Cross attended to receive the money raised.
The star of the night was John Harding a Gata DJ and event's organizer and his helpers borrowed from Santa.