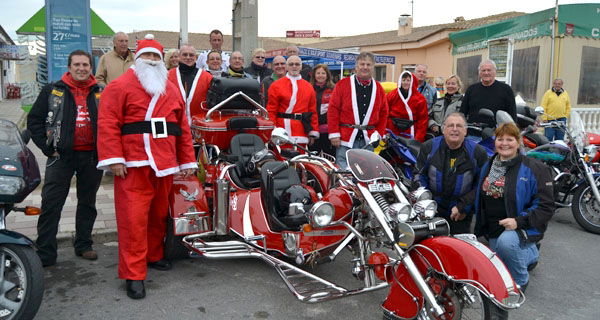 MEMBERS of the La Marina Motorcycle Club brought smiles and cheer to children, the elderly and mothers and babies as they donated dozens of gifts and much needed items.
Around 20 bikers took part in the charity run, setting off from urbanisation La Marina and headed up to Altea.
They visited the mother and baby unit, the orphanage and home for the elderly, all part of EMAUS charity. Gifts donated and collected by Monty's Bar and Woodstock Bar in La Marina, were left for the children and items of clothing that had been knitted were given to the mother and baby unit.
As the bikers headed back south they were met by the smell of hot dogs and fried onions at Monty's Bar. They were sold for €1 each and all proceeds will be donated to the DEBRA Butterfly Children's Charity.