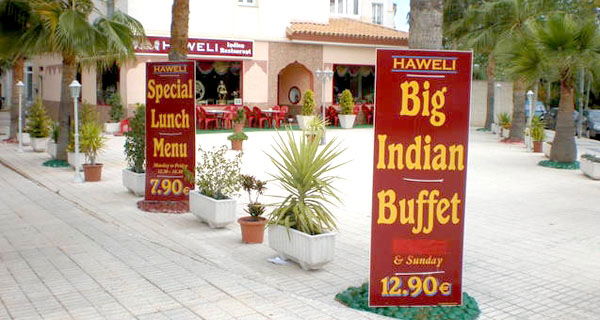 Haweli Albir, wonderful Indian dining
HAWELI Indian Restaurant in Albir is now a landmark in Albir, serving genuine Indian cuisine in sumptuous surroundings. At Haweli, all dishes are freshly prepared on the day, and this family restaurant offers a rare combination of fantastic quality and great value. The owners are the Singh family from New Dehli, and as well as running restaurants back in India, have owned and run restaurants here in Spain for the past eight years.
The food is superb! From Mondays to Fridays you can enjoy the €7.90 lunch menu. It's scrumptious, and does not skimp on size and quality despite its great price. There's onion Bhaji and chicken tikka starters, chicken korma and lamb rogan, pilau rice, naan and dessert, but there's plenty more to choose from. And true quality house wines great prices.
And now there's a menu of the day at €15.90; a starter, two main courses rice or naan, desert and a drink.
Don't forget!  Sundays, Lunch and Dinner, there is the Big Indian Buffet at only €12.90
The spices are fragrant and aromatic. In all the dishes you can recognize all of the flavours: finely chopped ginger, crushed garlic, luscious tomatoes and fresh leaf coriander in abundance. The list is endless. I guarantee you will find all your favourites. There are Bhunas with their mix of dried spices fried up with onions ginger garlic tomatoes and coriander, creamy Kormas, Jalfrezis and Dopiazas, and Special Chef's dishes. Try the fantastic Chicken with curry sauce infused with fresh mango, or maybe Chicken Pasanda with almonds and coconut. Delicious!
 I enquired what was the special dish of the restaurant; I was told " All our dishes are special. We are a very special restaurant in Albir."
Haweli is really easy to find. It's on the Lidl roundabout as you come into Albir off the N332.  Haweli has a lovely terrace for al fresco dining, and is open 12.30-4.30 and 6.30-12midnight. Reservations can be made on 966 866 864 or 652 316 644, and you can check it out on line at www.hawelialbir.com. Review by PD.
25th December, Christmas Day Buffet 14.90€
31st December, New Year´s Eve Buffet 21.90€ (incl glass of Cava and grapes)