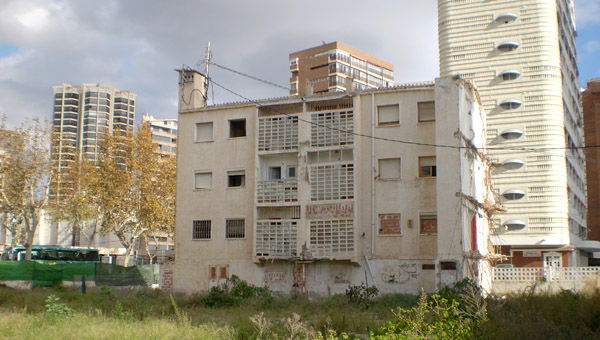 WHAT remains of Las Terrazas – Benidorm´s seafront enduring blemish – is to go.
The dilapidated low-rise apartment blocks on the Levante beach at the foot of the Avenida de Europa were long due for redevelopment, and an added safety hazard.  
As in many ´60s constructions, sub-standard aluminous cement was used and the buildings were unsafe.
After years of inaction by owners, the courts authorised the town hall to send in the bulldozers.
The blocks duly came down in April 2011 with one exception, with part left untouched because it housed an Iberdrola transformer that also supplied neighbouring properties.
The transformer had to be moved, but where? 
The Las Terrazas owners failed to reach an agreement amongst themselves or with Iberdrola and the last block remained intact.
The owners have now agreed to cede 25 square metres of the site to Iberdrola, which has pledged to meet the cost of demolition. 
To date owners have repaid €164,000 of the €209,000 it cost the town hall to demolish the buildings.
The outstanding €45,000 will be reclaimed through the courts, the town hall has said