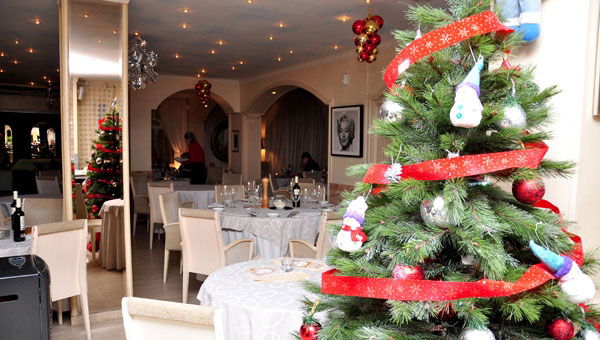 Ristorante Regina, a traditional Italian eatery, is located in Puerto Banus, adjacent to the Casino and the H10 Andalucia Plaza Hotel.
Opened in 1995, owners and sisters Daniela and Paola Morelli, originally from Sorrento in southern Italy, have a devoted client following that returns again and again to sample their gastronomic delights.
With almost 20 years in the business, and a history of gastronomy in their blood – their family also run Restaurante Valparaiso in Mijas – the sisters offer much more than tasty food; their excellent customer service is one of the reasons the restaurant has withstood the highs and lows of the fleeting Marbella seasons, attracting birthday parties, golf groups, celebrations and intimate dinners.
The restaurant hosts an array of live singers and musicians, including established tribute act The Rat Pack, performing many of Frank Sinatra, Dean Martin and Sammy Davis Jr's classics.
The restaurant also has a newly-developed 'R-Bar', where pre-dinner drinks and cocktails can be enjoyed.
Offering a selection of different specials every day, each visit is different. This ensures the freshest ingredients are used in all dishes, making use of seasonal produce.
The inspiration for the recipes derives from the intimate trattorias scattered throughout the Italian countryside.
The dishes we sampled were all from the specials menu of the day.
The starter of fried scampi salad, with rocket, green asparagus, avocado and a drizzle of tartare dressing was a fresh and light introduction to our meal.
A pasta dish of fresh pappardelle with prawns, lime, chilli and coriander was tangy and packed full of flavour.
The main fillet of wild sea bass was coated with a cream of coconut milk and chilli, poised on a bed of velvety risotto.
For dessert, a Ristorante Regina staple, profiteroles, the airy choux pastry encasing the after-eight and vanilla ice-cream, and drizzled with a gooey hot chocolate sauce.
The restaurant is open seven days a week. For lunch, Monday to Friday from 12pm until 4pm and for traditional Sunday lunch from 1pm until 5pm, and for dinner Monday to Saturday from 7.30pm until midnight.
Edificio La Ruleta, Nueva Andalucia, Puerto Banus
Call 952 814 529 or email [email protected]
www.ristorantereginamarbella.es