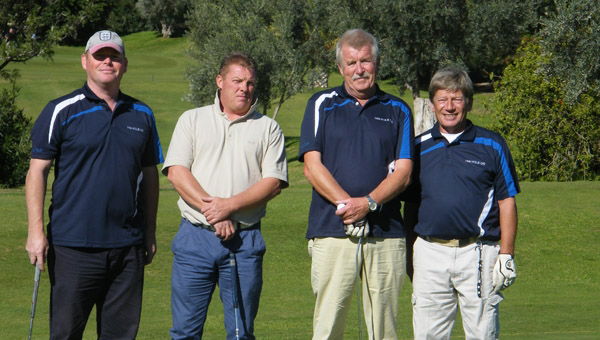 THE 19th Hole Golf Society held their annual away day team competition at La Envia.
Some steady play from Mark Danson's team of Nigel Greenwood, Tony Slinn and Sid Walker saw them scrape home as winners with 60 points.
John Haydon's depleted team of Pete Dow and Zeta Denyer came a close second place with 59 points.
Brian Lowden with 31 points won the individual Stableford, closely followed by Mark Danson on 29 points. Charlie Brookman took third spot with 25 points.
The society held a Presentation Dinner and Dance at La Vida Restaurant, Cucador, with 79 attending.
The two main annual awards were the Order of Merit and the Most Improved Player.
Brian Lowden took first place on The Order of Merit with 394 points closely followed by Roger Kaye with 386 points.
Most improved player of the year -going from a handicap of 20 to 14- was Terry Caddick.
The 19th Hole G/S is now arranging weekly games at various courses in the area, with home course, played fortnightly, being Aguilon.
More information: 610340653, or email [email protected]