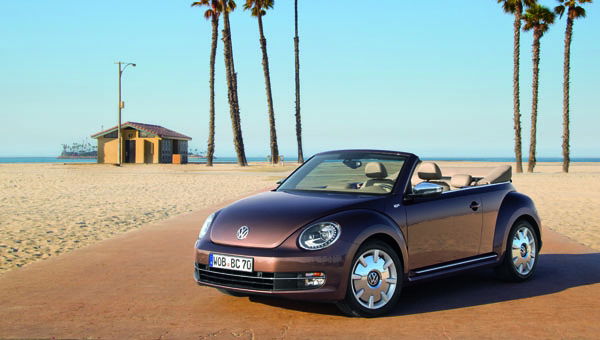 IN a world premiere at the Los Angeles Auto Show, Volkswagen presented the new Beetle Cabriolet. After the original Beetle Cabriolet and New Beetle Cabriolet, this is the third generation.
The new Beetle Cabriolet is now larger, more powerful, sporty and also more fuel-efficient, Volkswagen said. Prices will start from €22,400. First deliveries will be made in summer 2013.
The visual impression is of a car that is longer, wider and has a lower roofline, making its proportions look more dynamic.
Aside from its performance data and fuel economy figures, the most important value of a cabriolet is the time it takes to stow the soft top. In the Beetle Cabriolet, this is accomplished in 9.5 seconds thanks to a standard electro-hydraulic drive. It can even be opened while driving  up to a speed of 50 Kph.
When stowed, the roof folds together compactly behind the rear seats, optimising the view to the rear. The fabric soft top of the Beetle Cabriolet can be raised in 11.0 seconds.
In Europe, Volkswagen will offer the Cabriolet exclusively with direct-injection four-cylinder turbo engines. The three TSI (petrol) engines produce 77 kW / 105 PS, 118 kW / 160 PS and 147 kW / 200 PS, while the two TDI (diesel) engines develop 77 kW / 105 PS and 103 kW / 140 PS.
Volkswagen has conceptualised three special edition models for the open-top Beetle at its market launch: the '50s Edition', the '60s Edition' and the '70s Edition.'